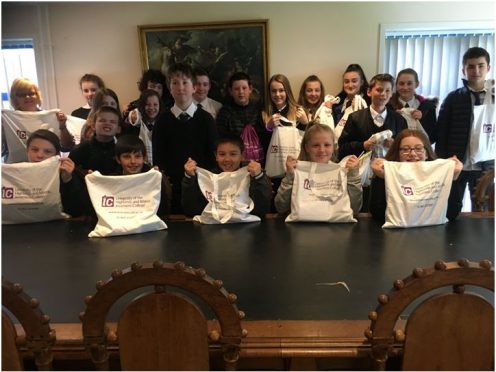 Senior pupils at a Highland school are being given "festival bags" to help them make sensible choices this summer.
The kit given out to fifth and sixth year students at Fortrose Academy include items such as sunscreen, toothbrush, condoms, toothpaste, wipes, hankies, hand sanitizers, water and ponchos, as well as guidance about drugs and alcohol.
The bags have been put together by Black Isle Youth Development.
Joan Smith, chairwoman of the Ross and Cromarty Drug and Alcohol Forum and a community psychiatric nurse for addictions at NHS Highland, said: "We want to give young people the opportunity to make informed choices about alcohol and drugs.
"We know that young people are attracted to these festivals and we hope that the information and the materials provided in the bags help to keep them safe."
The cost of the materials has been supported by the Highland Alcohol and Drugs Partnership and Ross and Cromarty Drug and Alcohol Forum with support from businesses such as Tesco, Morrisons, Water Cooler Scotland, local dentists, Inverness College and Ailsa Gordon, NHS Highland's oral health educator.
The bags were put together by younger pupils at the school.
Wanda MacKay, youth worker with High-Life Highland, said: "The bags were organised by first year pupils at Fortrose Academy, who generously gave their time to make sure all of the bags were equipped with essential items such as water, condoms, toothpaste and a toothbrush.
"We feel this is an ideal opportunity to provide young people with enough information to make sensible choices around the use of alcohol and drugs at these music festivals and in a wider context."