A window cleaner has been filmed working four floors above an Inverness city centre street – apparently without any safety equipment.
The man was spotted working from a ledge high above Church Street at the King's Highway Hotel, run by JD Wetherspoon.
Filmed from the opposite side of the street, the man, dressed in dark clothes and with a hood covering his head, can be seen carefully shuffling along the extremely narrow ledge before starting work on a window above the entrance of the hotel four floors below.
There is no evidence from the video of any safety equipment in use and there is no rail to protect the man along the edge of the ledge.
The brief nine second clip was posted yesterday on social media with the caption: "health and safety rules out the window in Inverness".
The eyewitness said he watched the man climb out through the end window on the left had side of the hotel.
He then worked his way along the row of dirty windows before returning and re-entering the same way he came out.
In all the mystery man spent around 15 minutes working on the ledge, high above people passing on the street below.
In the short video, a man can be seen talking on his mobile phone near the entrance directly below where the man is walking high above him.
The hotel said they were unaware of the incident and would contact their contractor but declined to comment further when contacted last night.
It is understood that the cleaner was a sub-contractor for the national agency Greig Avinou but the company did not respond when contacted last night.
The man's actions appear to be in breach of guidance laid down by the Health and Safety Executive.
On their website the agency state: "The Work at Height Regulations 2005 require employers and those in control of any work at height activity to ensure that the work is properly planned, supervised and carried out by competent people.
"This includes using the right type of equipment for working at height. When planning and organising window cleaning you must avoid work at height where it is reasonably practicable to do so, for example by using telescopic water fed poles or cleaning windows from the inside."
They add when working at height cannot be avoided they say that workers must "minimise the distance and consequences of any fall by using the right type of fall arrest equipment".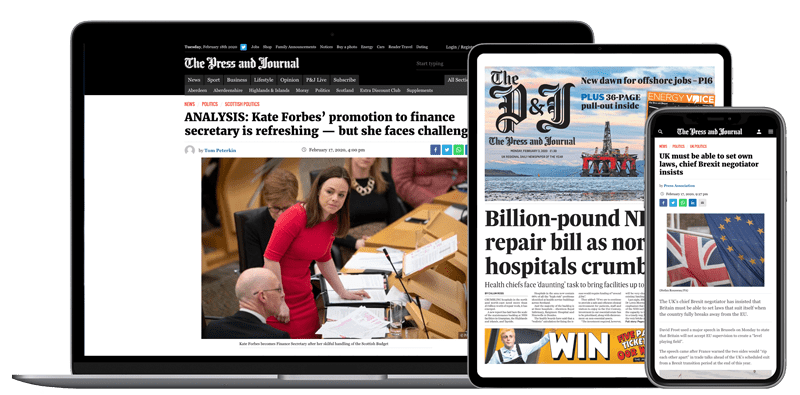 Help support quality local journalism … become a digital subscriber to The Press and Journal
For as little as £5.99 a month you can access all of our content, including Premium articles.
Subscribe