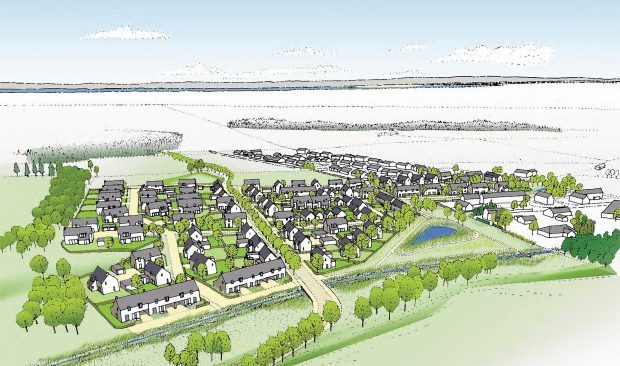 Plans for a major expansion of a small village in Inverness-shire have been lodged after years in the pipeline.
Scotia Homes have revealed detailed plans to build 100 houses, a shop and a cafe in the outskirts of Croy.
The development was first mooted in 2010 but has never materialised.
However, the company has now lodged a full planning application with Highland Council, though the detail has changed since the original proposals.
There was considerable opposition from local residents towards the plans during a long running consultation when the development was first proposed.
The project involves building on land to the west of the village's primary school.
The company plan to carry out a tree planting programme to create a "parkland" environment and propose making changes to the Croy Burn as it passes through the site.
At present the watercourse is buried in a culvert and Scotia propose removing this so it flows through the development.
Scotia Homes said they were "pleased" to have reached this stage and pointed out that the area is zoned for up to 180 houses in the local development plan.
A spokeswoman said: "Our primary aim in developing the new proposals are to ensure that a coherent and sensitively designed development is created over the coming years and that our former Ardgowan scheme and the historic village centre become fully integrated around our new development."
He added: "A further key output of the recent and historical public consultation events has been the importance of establishing an element of mixed use and our proposals seek to incorporate provision for two business units which we hope to develop with willing partners potentially for a local shop and adjacent cafe enterprise, thereby broadening the range of facilities within an accessible location near to the village centre, as we are aware that the village does not
currently benefit from any local retail facilities, following the closure of the village shop a
number of years ago."
The development would one of several large scale housing projects in the area east of Inverness, including the Tornagrain new town which is currently being built a few miles to the west.
Concerns were raised in the initial round of consultation about the density of the homes, the ability of the rural roads around the village to cope with extra traffic and a potential increased flooding risk at the Croy Burn.