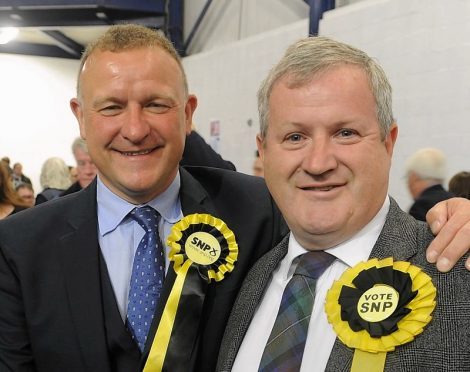 Drew Hendry had his majority more than halved in Inverness, Nairn, Badenoch and Strathspey – and immediately outlined his mission to tackle local poverty in an area of notorious low pay.
Leaving the Conservatives' Nicholas Tulloch in his wake in second place, almost 5,000 votes behind, he went on the attack blaming the Tory government at Westminster for disturbing levels of poverty in the north.
He pledged that the SNP would not "stand by and watch the vulnerable and disabled circle the drain of austerity and a hard Brexit."
Speaking shortly afterwards, Mr Hendry explained his wrath.
"I see a lot of people at my surgeries, day in and day out, that are put under extreme pressure," he said.
"Some have to do without money and, therefore, heat, light and sometimes food for days, sometimes without money for weeks and months in extreme cases.
"When you're fighting for people like that, you must be passionate about it. Otherwise you can't make the kind of breakthroughs you'd like for those people."
Retaining Lochaber, his party colleague Ian Blackford honed in on Brexit, promising to fight "to remain a European nation."
He attributed his election win to hard work, in particular his drive to secure fresh investment in local industry, since being elected for the first time in 2015.
He cited Liberty's massive investment in Fort William along with major projects planned for Kishorn and Skye.
Branding regular critics of indyref2 negative, Mr Blackford said: "What they should do is recognise that the Scottish Government was elected last year with a mandate to protect Scotland's interests and, on the basis of a change in circumstances, to give the people of Scotland a right to have their say on our country's future."