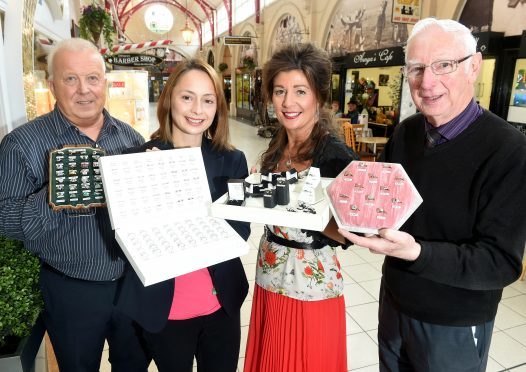 Whether it's the engagement ring for the partner of your dreams, the wedding bands that will represent your love for each other or a gift for a special someone, there's only one place you need to go to find something that will be treasured for years to come.
In Inverness, there's one venue where you can find several jewellery and gift stores under one roof, the city's Victorian Market.
Situated right in the heart of the city centre, shoppers can browse at their leisure, and take their time looking at the selection of rings, watches, necklaces and other gifts which are available.
One-to-one customer care comes free of charge and because you're dealing with established, local firms, you are guaranteed good, personal service as well as great after care.
Here's a selection of some of the stores in the Victorian Market:
KENNETH MOORE Incorporating SILVERCRAFT JEWELLERS
For Kenneth of Kenneth Moore Jewellers, witnessing generations of families come through the door makes his job all the more wonderful.
The business has been running since 1961, and Kenneth has been trading in the Victorian Market for the past  17 years.
His daughter, Denise, and her husband, Mark, also work in the shop.
"We select all our own diamonds and can custom make pieces using stones or precious gems, we've had generations of families coming to us from across the north east of Scotland for many years," said Kenneth.
"It's not just a question of saying hello and goodbye when dealing with customers, we provide excellent customer service whether you are spending £20 or £20,000.
"Customers need to be confident in us and I think our passion comes across in everything that we do."
Kenneth has found that people increasingly come into his shop with their own ideas, and he loves helping couples to create pieces which are special to them.
The shop  has an excellent range of second hand jewellery on offer alongside popular designs, and also offers repairs and engraving.
"We find that our customers return to us from buying their wedding rings to needing traditional pieces for a christening, you build up a relationship and I don't think you find that in chain stores," said Kenneth.
"Experience and reputation are everything, we've moved with the times but something as timeless as the diamond never goes out of fashion."
FINKELSTEIN JEWELLERY – WILLIAM MORRISON
Willie hopes to continue in his father's footsteps for many years to come, after the shop first opened its doors in 1960.
Whilst trends come and go, Willie believes that not a great deal has changed across the decades when it comes to classic pieces of jewellery which are often passed down through families.
With family at the heart of the business, Willie works with his wife, Louise, and their son, Malcolm.
He believes that classic jewellery still remains popular, and he now serves the grandchildren of couples who bought their wedding rings from the shop!
"People come back to us and I think whilst time passes, some things stay the same," he said.
"We are a very traditional jewellers and classic pieces don't go out of fashion unlike modern trends, and they offer much better value.
"We're always pleased to advice and we try and source jewellery so our customers get the very best possible deal."
Willie mostly specialises in vintage jewellery but is more than happy to meet  the needs of the customers who may be looking for something that bit different.
"I hope we'll be here for a long time yet, we love working with pieces that symbolise longevity and there's nothing quite like tradition," he said.
COLIN CAMPBELL AND CO
For Lorna Reynolds and her brother Paul, running the family business is a privilege and the duo work well as a team.
Lorna has stepped into the role of director whilst Paul is the on- site jeweller, a rarity in this day and age.
"Our father, Colin, was happy to hand over the reins and the business has continued to be successful, he started as an apprentice in the jewellery trade almost 50-years-ago and it's wonderful to see how far the business has come.
"We've been trading in the Victorian Market for the past 17 years and have certainly seen trends change," said Lorna.
"White metal is the most popular material at the moment but yellow gold is also making a come -back.
"I wouldn't be surprised if it's the go to for wedding rings by next year, clearly it's coming back into fashion.
"We love helping customers and having a jeweller on site is very beneficial, but not nearly as common in recent years.
"From remodelling to valuing, we're happy to help customers in any way we can.
"We love seeing people make such important choices thanks to our help, jewellery is very sentimental and it's great when couples arrive at a decision for their wedding rings.
"We often see them returning over the years and that's another lovely aspect for our family business."
The shop specialises in diamond set jewellery and also stocks more unusual pieces alongside bespoke commissions.
The Victorian Market is open Monday to Friday 7am – 7pm, Saturday 7am – 6pm and Sunday 10am – 4pm.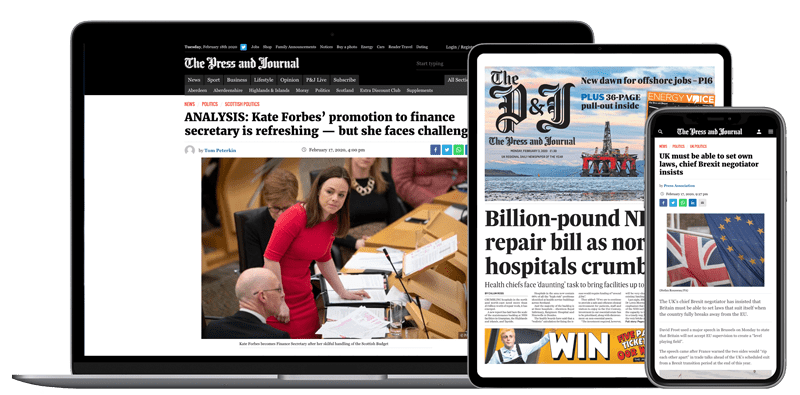 Help support quality local journalism … become a digital subscriber to The Press and Journal
For as little as £5.99 a month you can access all of our content, including Premium articles.
Subscribe