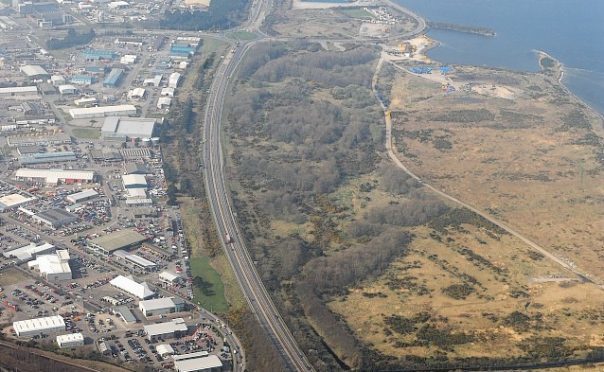 Tests are under way to find out if a new industrial estate for 2,000 workers can be built at the former Inverness dump, it has emerged.
Council chiefs have revealed that drilling has begun at the old Longman landfill site as part of a year-long survey of the ground conditions.
They hope 44 acres at the former rubbish dump can be turned into almost 500,000sqft of commercial space, creating 2,000 jobs over 10 years.
A business case has been produced for an initial £10million for remedial work to bring land back into use at the landfill site which closed in 2003 after 60 years.
The scheme is among the projects included in the £315million Inverness City Region Deal, which was signed in January by representatives from Highland Council and the UK and Scottish governments.
In an update to councillors yesterday, local authority officers said: "Part of the business case was approved last year and test drilling is under way as part of a year-long survey of ground conditions."
In total, £20.25million worth of business cases have now been agreed for the release of funding for City-Region Deal projects.
This includes £8 million approved last month for affordable housing and "innovative living projects", including £5million from the Scottish Government which paves the way for the first 10 mid-market units to be built in the Raining's Stairs development in Inverness.
A further £3million of Holyrood cash will help establish innovative assisted living schemes using the latest healthcare technology to enable older people to continue to live in their communities.
The council said sites were being purchased in Nairn and Milton of Leys area of Inverness, while a cluster will also be built in the city to suit the needs of veterans.
Meanwhile, plans to improve the uptake of science, technology, engineering, maths and digital subjects in schools, creating a Science Skills Academy with a hub and five "Newton rooms" have also progessed.
The business case for the project has been approved and it has been agreed that the first two Newton rooms will be in Caithness and Lochaber.
An update on proposals to transform Inverness Castle into a tourist attraction said: "The preferred option for the castle is being developed. A funding bid will be made to the Heritage Lottery Fund and part of the business case has been approved to cover professional services."