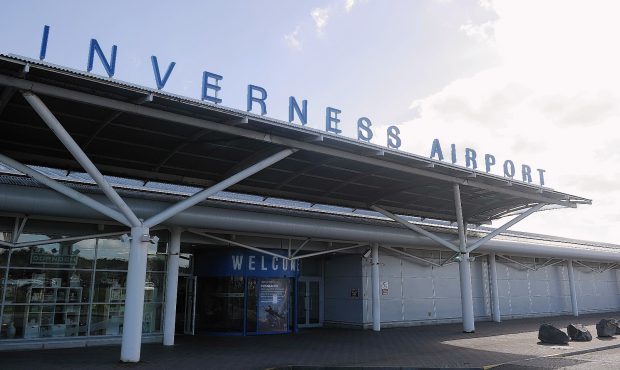 Gliders and leisure fliers have warned that their safety is being put at risk as the north's largest airport prepares to submit an airspace "grab" proposal to the authorities.
Gliders and other leisure fliers fear that the proposal by Inverness Airport to slap a controlled zone around the site could ground them – and claim the operators are trying to "wear them down" so they give up.
Highlands and Islands Airport Ltd (Hial) want to secure a 30-mile radius of the north sky as controlled airspace.
The move would give them far greater control over air traffic using the skies around Dalcross – which Hial argues would improve safety and efficiency.
But the plans have been hit with almost 100 objections, several from aviation groups – with one yesterday accusing Hial of being "patronising and rude" after suggesting that general aviation groups had "not understood" the benefits of introducing a type of airspace known as Class E+.
This would mean aircraft would have to carry transponders to make contact with the airport.
A large area of Class D airspace would also be introduced – which is more tightly controlled and requires aircraft to receive radio clearance from air traffic control before entering.
Of 105 responses received to the consultation, there were 94 objections, four neutral comments and seven supportive statements.
The supportive comments included airlines such as Loganair and KLM who operate routes out of the airport.
A further period of consultation is proposed in the report addressing concerns – before the proposal is put before the Civil Aviation Authority (CAA) for final consideration.
Nick Norman, airspace representative of Cairngorm Gliding Club said: "They perhaps don't appreciate that each round presents a large burden on voluntary organisations such as gliding clubs, with endless pages of technical jargon to be read through, analysed and responded to."
He suggested that there should be scrutiny through the process by the CAA rather than just at the final decision.
He added: "Or perhaps Hial do appreciate the point since, as it is, the process seems more one of wearing down the opposition until they surrender due to fatigue?
"As we have stated before, the proposed change has no justification on the grounds of safety or anything else, seemingly just an 'I want…" grab'."
Mr Norman took exception to Hial's suggestion that general fliers had not understood the benefits of Class E+ airspace.
He said: "Well, how patronising and rude. Various well informed, well qualified members of the GA community have spent many hours studying the proposals and they are fully aware of the proposals and their effect.
"In fact it is Hial who seem to have no concept of the impact on general aviation, and in particular gliding, that their proposals would have. Or perhaps they just don't care.
Robert Tait, chairman of Highland Gliding Club based south of Elgin, added that "nothing in these proposals benefits our gliding club or general aviation".
He added: "This proposal will directly affect our ability to soar locally and if implemented will negatively impact the safety of our cross country flying due to longer periods having to be spent over unlandable terrain as well as a higher workload having to talk on the radio."
Mr Tait said the club will continue to oppose the proposal – but said they would be willing to work with the airport if they were to come up with a revised plan which suits all fliers.
Hial said they will now submit a formal proposal to the CAA reflecting the changes which have been made to the airspace design during the consultation period.
A spokesman said: "Inverness Airport supports a vital and effective national and international flight network to both the local community and wider Highlands area."
He said the changes were designed to "provide and improve protection on critical stages of flight around the airport".
He added: "The ambition is to deliver a proportionate sector of controlled airspace where aircraft in the area are required to inform air traffic control at Inverness of their intentions which will ensure we maintain levels of safety and enhanced operational efficiency for all airspace users."