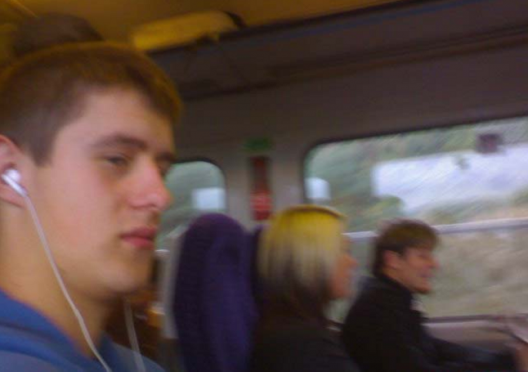 An Angry father whose teenage son died in a horror level crossing crash has said a decade-long delay in making safety improvements at the scene is "ridiculous".
Network Rail has now started work to install semi-automatic barriers at Delny open level crossing in Ross-shire, where Alan Thain and Paul Oliver died after the car they were in was struck by the Inverness to Wick train.
Driver, Richard Fleming was given a five-year jail sentence for causing death by dangerous driving.
But more than a decade on from the horror crash, Delny and Dingwall No.1 are the only two open level crossings left in Scotland where barriers still need to be installed – Delny will be finished by the end of this summer and Dingwall next summer.
Yesterday Alan Thain's father Sandy said: "Taking 10 years to put wee barriers on a level crossing is ridiculous.
"It's good that it's now going to happen but there should have been barriers put in there straight away.
"We lost our son and there's not much more we can say."
He also referred to an earlier crash at the same crossing in May 1996 when Charles Ross, then 46, of Fearn, survived when his car was struck by a Sprinter train and shunted 30 yards along the track.
Mr Thain's son was just 17 when he died in hospital five days after the accident which happened on February 2, 2007. His friend Paul, also 17, died at the scene.
The trio had been travelling to Inverness College where they were students at the time.
A Network Rail spokesman said yesterday that they are "committed" to removing open crossings from the network and installing barriers where this is not possible.
The spokesman added: "The tragic incident at Delny in 2007 was caused by the actions of the car driver and we work closely with the British Transport Police to raise motorists' awareness of the dangers of misusing level crossings."
Local residents and politicians campaigned for urgent safety improvements at the crossing following the incident in 2007.
Following more fatal accidents at open level crossings in the Highlands, Network Rail announced plans in August 2012 to install barriers at all open level crossings in the region.
But in 2013, objections heightened in the Easter Ross area when the rail operator threatened closure of the crossing and road access.
And after a public meeting near Kilmuir in October 2015, Network Rail agreed to install interim safety barriers at Delny ahead of a more long term plan for a bridge replacement over the railway.
Yesterday, Kilmuir and Logie Easter Community Council chairman Tom Anderson said: "It's good to see work is starting. The community council has been involved in this for years to try and get barriers installed, but it's slightly disappointing that it has taken this long.
"I am also pleased we have got the commitment that the road will always stay open, and the first step in that is to put in the barriers."
Jamie Stone MP for Caithness, Sutherland and Easter Ross, said he was "absolutely delighted by this news," adding: "It's been a very long wait. Indeed, in my last parliamentary incarnation in Holyrood seven years ago it was one of our biggest issues, and for me personally. I know that this will be welcomed by the community.
"The delay was unacceptable and I could never understand why it happened. I think we have to learn from this and realise if urgent engineering works are required on safety grounds, these must be taken."
The Network Rail spokesman confirmed that preparatory work has now started at Delny ahead of the installation of an automatic barrier system at the crossing.
A range of works including signalling and fencing works and track alterations will need to be finished before the new barriers are installed by the end of summer.