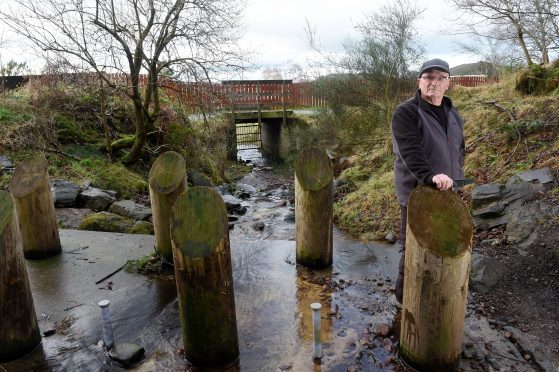 A Culloden man has been censured by Highland Council, after confronting flood engineers about slow progress on an alleviation scheme.
Alex Nicol compared the council staff to King Canute and called them incompetent after coming across them in the Lochlann area of Culloden last month.
He believes that a flood scheme is at least 15 years overdue for the area.
Mr Nicol has now been rebuked by the council – with the authority's infrastructure director writing to him about his conduct around staff.
But he has defended his behaviour, saying he was simply mounting a "robust argument".
He claims to have approached the two council engineers by saying "I see King Canute has arrived".
He also admitted accusing the council staff of "incompetence" over the length of time it has taken for work to start.
He said: "I don't consider my behaviour to be abusive. My behaviour was straight to the point and if they can't take it then they should get out of the kitchen."
Mr Nicol said the council's response was an attempt to show "we're bigger than you" and to keep him quiet.
He added: "It's a load of nonsense. We're allowed to speak out and to stand up for ourselves or we should be."
A council spokeswoman said: "The Highland Council is firmly of the view that all those who work in or provide services to the council have the right to do so without fear of violence, threats or abuse.
"All employers have a legal obligation to inform staff of any potential risks to their health and safety.
"Behaviour such as this is unacceptable and will not be tolerated."
Culloden and Smithton have both been regularly affected by flooding from burns running through the Inverness suburbs for several years.
Work has already been completed in some areas – though a major element of the work – two large drainage ponds to store excess water – have been pushed back and will not now started until Easter next year at the earliest.
The council spokeswoman added: "It is currently estimated that the main construction contract will not be awarded until the start of 2018, with works beginning on site around Easter 2018.
"As there are a number of activities to be undertaken before that point, this date is only a best estimate at the moment and is subject to change."