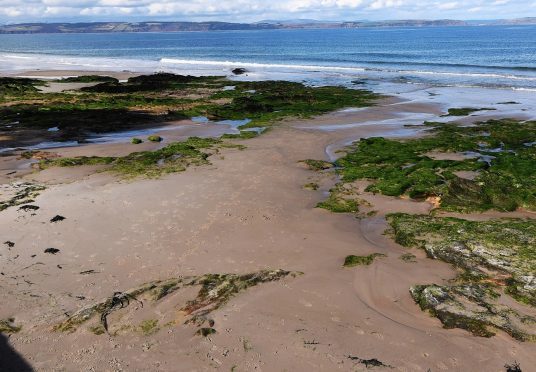 Around 25 bags of rubbish have been collected during a community clean-up of their prized beach.
More than 50 people scoured the sand dunes for litter and larger items – such as a car tyre – found dumped on Nairn beach.
As well as the community spirited local volunteers there were a group of holiday makers who had enjoyed the beach during their stay and wanted to help out.
The clean-up was organised by social enterprise group Green Hive, which drives environmental events and projects in the town.
Project leader Kirsty Ellen said the event had been successful.
She said: "It was a great event, about 50 people came out and between us we collected about 20 to 25 bags of rubbish, somewhere in that region.
"There was a lot of smaller litter but we also got tyres and some bits of metal.
"It was a good day, a nice social event.
"We all went for lunch afterwards so that was a good chance to get to know people a bit better that we didn't know before."
The event was supported by Nairn Sailing Club, who volunteered to help out with the clean-up and then hosted the litter pickers for lunch afterwards.
Ms Ellen said: "They appreciated the beach and they had seen the event organised and wanted to get involved."
The most widely found litter was glass from bottles and drinks cans, which were found spread along the beach and up the riverside.
Yesterday's event followed on the success of a similar clean-up in November last year where around 60 volunteers collected more than 60 bin bags full of rubbish.
Among the debris recovered on that occasion was a complete barbecue which had been abandoned and a street sign warning that there would be "no unauthorised people beyond this point".