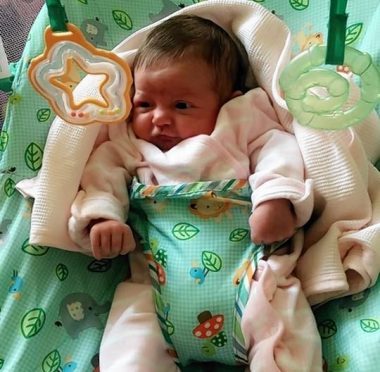 Police have confirmed that the death of a three-week-old girl in Inverness is now being treated as "suspicious".
Baby Mikayla Haining died on Thursday, June 8, after being rushed from her home to the city's Raigmore Hospital.
A major police investigation has been ongoing ever since.
Mikayla's death has been described as "unexplained" up until yesterday – when police confirmed that they now believed the tragedy to be "suspicious".
The force investigation is ongoing to establish exactly what happened to the baby girl – and last night officers urged anyone with information to make contact.
Detective Inspector Brian Geddes said: "Following extensive inquiries, we can now confirm that the circumstances surrounding Mikayla Haining's death are suspicious.
"Our investigation remains ongoing at this time, as we work towards establishing the full set of circumstances that led to Mikayla's death, and it would be inappropriate to comment further at this time."
The police investigation has centred around a maisonette flat on Mackay Road in the Hilton area of the city.
It is understood that baby Mikayla lived in the flat with her parents Tom Haining and Shannon Davies.
The property has been the scene of significant police activity, especially in the days following Mikayla's death.
The flat remained sealed off yesterday with covers on the inside of the windows.
For several weeks the flat had been covered up with a large blue tarpaulin hung from a first floor balcony to screen the property as police worked at the scene.
A police presence was maintained in the area for the first few weeks after Mikayla's death.
Specialist forensics officers were also seen working around the area and in the flat following the death.
Detectives carried out door-to-door inquiries in the block of flats and with other neighbours on the street.
Speaking a few days after the tragedy, a neighbour, who did not want to be identified, said how she had spoken to Mikayla's parents several times in passing.
She said: "They're a lovely young couple.
"They were so excited to have their baby. It's just so horrible.
"I don't know what I'd feel if I was in their position.
"I don't think anyone could know what they feel.
"My heart breaks for that wee baby."
Angus Dick, Hilton, Milton and Castle Heather Community Council chairman, was shocked to hear of the baby's death.
He said: "It's an awful thing to hear about. It's a real tragedy. The death of any child is a tragedy but one that young is just awful.
"It's not something you would ever want to hear about."
Anyone with information is asked to contact Police Scotland on 101, quoting reference NN/14025/17.
Alternatively anyone who wishes to remain anonymous can contact Crimestoppers on 0800 555 111.