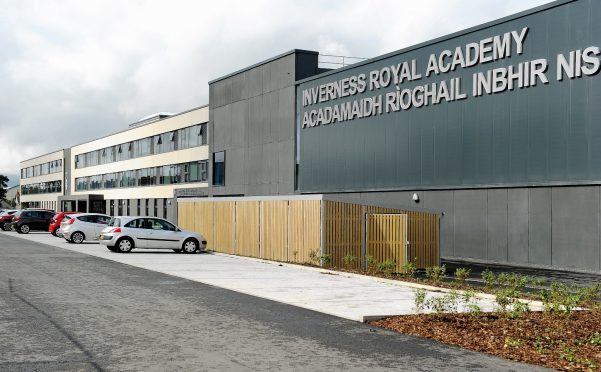 Work is under way to fix gas pipes at a £34million Inverness secondary school after they were incorrectly fitted by bungling contractors.
The problem at the 1,000-pupil Inverness Royal Academy emerged just weeks after it opened last summer – but education chiefs had to wait until the end of term to resolve the issue.
Gas was turned off to classrooms where home economics, science, and craft, design and technology are taught, with pupils having to use portable Bunsen burners and electric cookers instead.
The Health and Safety Executive (HSE) issued improvement notices to three contractors involved in building the school.
Sub-contractor Vaughan Engineering was accused over "evidence that screw joints in the gas pipework have not been made in accordance with the appropriate standard".
It was also said that materials were used "which are not the correct type for the gas" and that joints "have not been made" in accordance with the manufacturer's instructions.
Meanwhile, Morrison Construction was said to have "not managed and monitored" the gas installation to ensure that the contractors were implementing "the applicable legal requirements for health and safety and were competent to carry out all the work".
And Hub North Scotland, the lead developer in the contract, was also hit with HSE improvement notices in September, because the arrangements for managing the project "were not maintained and reviewed", and the health and safety manual relating to the gas installation "was not adequate or up to date".
Yesterday, Highland Council confirmed that it hoped the issue would be resolved in time for the start of the new school year.
A spokeswoman said: "Hub North Scotland are currently coordinating remediation works to the gas installation at the school.
"This work commenced yesterday and is programmed to be completed, in phases during the current summer holiday period.
"The Highland Council has engineering staff on site witnessing and monitoring work as it proceeds.
"If necessary the October holiday period will be used for any items that are not completed during the summer."
Details of the gas issue at Inverness Royal Academy emerged last year amid ongoing controversy over the delivery of the new £48million Wick Campus, which was beset by embarrassing delays and also involved some of the same contractors.