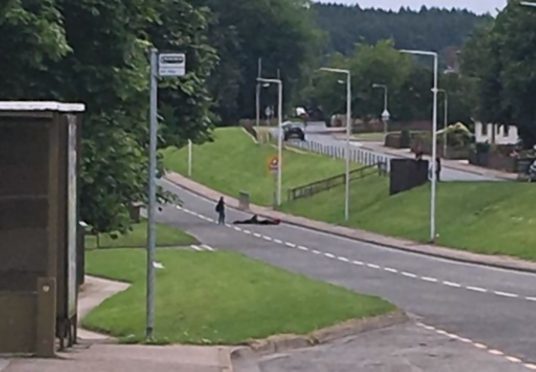 A leading road safety charity has warned of the dangers of "risk taking" on the roads after children were seen apparently playing "chicken" on an Inverness road.
The Royal Society for the Prevention of Accidents (Rospa) warned that such is behaviour is dangerous both for the children and drivers.
Child comes within seconds of being hit by car as group play "chicken" on busy Inverness road
The safety warning comes after the youngsters were seen stretched out across General Booth Road in the Kinmylies area of the city earlier this week.
One of the children apparently came with seconds of being hit by a car.
It sparked a safety warning from police and local community leaders – with Rospa yesterday joining the concerns about the dangerous game.
Sandy Allan, the charity's road safety manager in Scotland, said: "Any person thinking of the potential consequences here will immediately recognise the dangers.
"Thrill seeking or risk taking behaviour by anyone on a road is clearly dangerous, not only to themselves but for any unfortunate driver who comes upon them.
"This type of situation may not be anticipated by every driver.
"Keeping safe on our roads is everyone's responsibility."
Earlier in the week, police encouraged parents to make sure that they know where their children are and if they are safe.
Inspector Ali Maclean urged anyone with concerns or information to make contact with the force on 101.