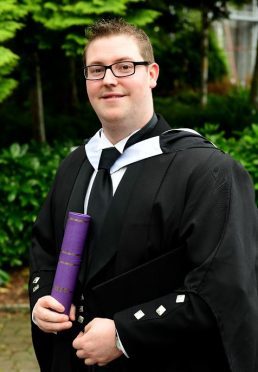 A former pupil of Inverness Royal Academy, who went straight into a job after leaving school, has proved it's never too late to go back to study.
Prior to graduating yesterday with a BA (Hons) in Law and Management from Robert Gordon University, David Munro's first job was with Woolworths.
Now, aged 27, he has secured a graduate training job with Enterprise Rent-a-car and is looking forward to the next stage of his journey.
Before he began studying at RGU, he attended Inverness College (now the University of the Highlands and Islands) and gained an HNC in Business Management, in addition to being named Business Student of the Year for 2012.
Talking of his ambition and drive, Mr Munro explained: "Completing the college course made me want to progress further.
"I'd had practical experience of managing a business and wanted to expand on my knowledge. I've always found the legal aspect of business interesting and this course encapsulated both."
Mr Munro immersed himself in student life and added: "Being out of school for a few years meant it took a bit of an adjustment in lifestyle and a bit of time to get back into the habit and technique of studying.
"I literally threw myself into various roles at university including class rep, faculty officer and got involved with RGU: RAG.
"While on the RAG committee, I helped raise a total of £64,000 and RAG received a special award from the Student Union. The most obscure fundraising activity I was involved in was doing the firewalk at Aberdeen Fireworks Display.
"One of the highlights of my university life was being elected Vice President of Societies and all the related tasks associated with the role, including helping arrange Fresher's' Weeks and many other activities through the year.
"Carrying out this role in third year, while holding down a part-time job was challenging, but a worthwhile experience."
Mr Munro feels proud of his achievements, and has amassed plenty of accolades during his time at RGU.
His honours include Officers Recognition Award, Fresher's Team Member of the Year and Student Recognition Award from RGU: Union and the RGU Student Engagement Award.