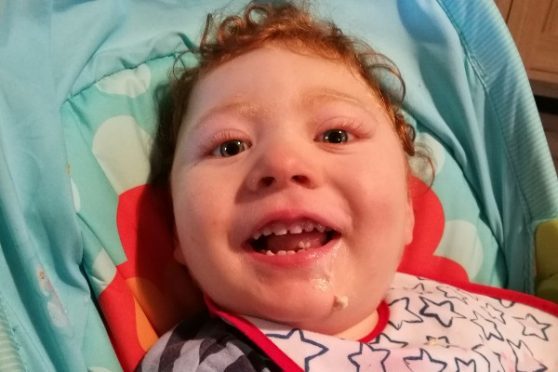 More than 150 runners have joined forces to raise "life-changing" funds to help a two-year-old Inverness boy walk for the first time.
Sam Douglas was born with severe developmental delays, but a major fundraising effort has raised hopes the youngster could soon be able to take his first steps.
A group of seasoned runners, beginners and children have formed "Team Sam" and entered the Baxters Loch Ness Festival of Running to pay for specialist therapies for him.
Sam's mum, Stephanie Douglas, thanked the fundraisers last night, saying: "We never imagined so many people would be so kind as to help us try to do the very best we can for Sam.
"In our darkest days, it has been so uplifting to know people care.
"Since the first round of therapy, we have seen big improvements in him and it's just wonderful to have the chance to keep on helping him.
"It's impossible to explain how it feels to see your little one struggling and working so hard to do things most people just take for granted.
"The therapies are life-changing and we just couldn't do it on our own finances.
"He's been through so much already in his life, but he never stops smiling."
Sam was born following a routine pregnancy, but it was discovered at birth that his brain had not fully developed. The family still has no medical explanation for the cause of his condition.
Family friend Lynda Fraser heard about a specialist therapist based in London, but the treatment costs about £600 per week.
Supporters were able to fund one course of therapy which led to a huge progression for Sam, who also suffers from epilepsy.
Sam's parents carry out their own intensive therapy at home.
The "Step Up For Sam" fundraising effort is being spearheaded by Sam's godmother Jenni Donnelly, who said: "The therapy is tough for Sam, but is already making a real difference."
They have already raised more than £25,000 for the Special Care Baby Unit at Raigmore Hospital and children's epilepsy charities.
Sam's auntie Nicola McAlley is also running her first 10k for him.
She said: "I describe myself as an avid non-runner, but I would do anything I can to try to help Sam. He is so precious to us all and it has been amazing to see his progress."
To donate to Sam's Fund go online www.gofundme.com/stepupforsam