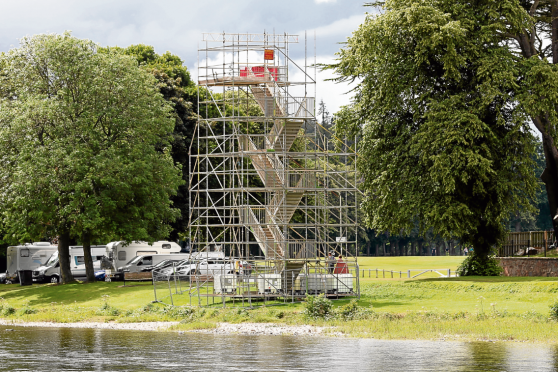 It formed part of a novelty zipline challenge across the River Ness to raise funds for a worthy Highland children's charity.
But a tower of scaffolding put up by the River Ness has also provided a useful training facility for firefighters in Inverness.
Local Senior Officer John MacDonald said that crews regularly train to work safely at height at Inverness Community Fire Station, but that the "unfamiliar structure" by the river helped enhance their skills last week.
He said: "We have recently been using a safe structure which was built temporarily for a charity event in Bught Park, Inverness, and the benefit of using this to train and to consolidate our working at height skills has been hugely beneficial.
"I'd like to take this opportunity to thank all parties involved for affording us the opportunity to make use of the temporary structure.
"Our continued training is key to ensuring we are performing to the best of our ability whilst on the frontline and protecting local communities."
The scaffolding tower was used for a zipline across the river as part of the activities at Inverness Highland Games which took place more than two weeks ago.
It was set up to raise money for life-enhancing equipment – not included in the NHS budget – to ensure youngsters in their Highland children's unit have a quality stay.
The ARCHIE Foundation unit was built following a campaign which helped raise £2million – and opened its doors in May last year.
A spokeswoman for the ARCHIE Foundation said: "The Archie Foundation are hugely grateful to Inverness Events for enabling the River Ness Zip Line to take place and also to McDonald Scaffolding for their support.
"The scaffold enabled a fantastic fundraiser to go ahead which will benefit sick children right across the Highlands, and also assisted the fire service with essential training."
Inverness West councillor Alex Graham said: "If the fire service have got a benefit out of something that has been put up at the expense of the private sector then that is only good thing."
The scaffolding was dismantled yesterday afternoon but Highland Council's events manager, Gerry Reynolds, praised the "good opportunity had been seized" by the fire service and stressed he would like to see it back again in 2018.