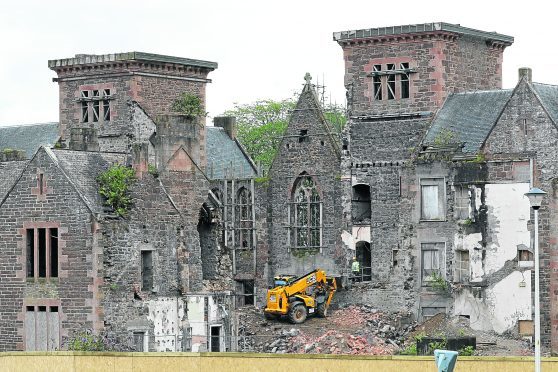 Work is progressing to transform a blaze-hit Inverness hospital into an upmarket housing development.
Robertson Homes is stripping the inside of Gleann Mor House at the former Craig Dunain psychiatric hospital, Westercraigs, as part of work to build 56 new luxury homes.
Last night, executive chairman Bill Robertson said the first occupiers will be expected to move into these properties by spring next year.
The developer has been transforming the 120-acre site surrounding the old hospital into properties for which it was granted outline planning permission in 2005.
A vision for 550 properties at the site has previously been mooted by the house-builder – but the total number of homes is not set in stone.
Mr Robertson said: "It (the entire development) is going to make the whole area of more interest to a lot of buyers."
Built in 1864, the landmark Craig Dunain building was gutted by a blaze in September 2007, causing more than £5million of damage.
The first phase of restoring the listed building involved the creation of 12 luxury apartments which was completed in 2011.
And work has now started on the next phase of up-market homes at the site.
Mr Robertson added: "We are trying to get the insulation value to the acquired standards, and we're taking sizes of panels inside the building. We are working from the inside out.
"There will be 25 up-market flats and another 31 units – so 56 properties in total."
The company has said previously that the luxury homes would feature bay windows, turrets and would complement modern, spacious family homes that it is building elsewhere.
And managing director John Murphy said previously that they expect "significant demand", particularly as completion of the West Link road will lead to better connections in the area.
Mr Murphy also said the plan will be to create a "sustainable semi-rural community" at Westercraigs, including key play facilities, green space and community facilities.