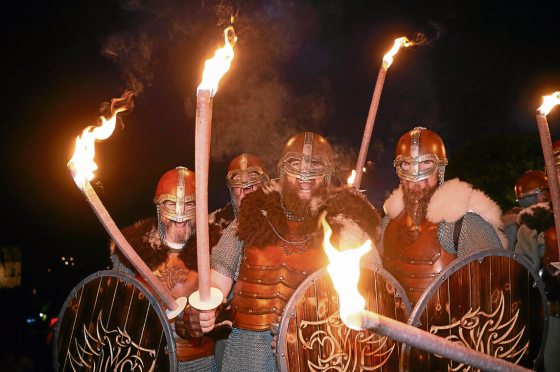 If the residents of Inverness were a bit intimidated by the invasion of Vikings to begin with, they soon warmed to the situation.
The Lerwick Jarl Squad from Up Helly Aa in Shetland visited the city on Saturday for a Viking fun day.
The invaders marauded – or rather paraded – through the city in the afternoon and in the evening.
Guiser Jarl Lyall Gair said: "The parade in the afternoon was really good. It was a scortching day. It was a great turnout, the weather really made it.
"The people of Inverness welcomed us. Well, they were probably a bit scared to begin with but they enjoyed it and we mingled and paraded in the crowd."
The Up Helly Aa squad were joining in with family activities at Inverness Museum and Art Gallery.
At 4pm there was a family parade from the museum to the castle, where youngsters got the chance to join in sword and shield making workshops.
In the evening the Jarl Squad returned to the city centre for two hours of fun, including performances by the City of Inverness Pipe Band, Mascot Madness and the Fraser School of Highland Dance.
The squad then followed the pipe band in a spectacular procession at 9pm from the High Street up to Inverness Castle to wait for the sun to go down. The Jarl Squad could be seen lighting up their torches as darkness fell.
There was also an exhibition being hosted, Valhalla – Life and Death in Viking Britain, from the Jorvik Viking Centre from 7pm.
The museum hosted further adult events on Saturday night including free talks and tastings about Viking Brewing, hosted by Johnny Horn from the Hanging Bat Brewery. There was even the chance to sample a taste of Shetland Reel Gin.
Viking Invasion was sponsored by the City of Inverness Common Good Fund as part of the Inverness Events and Festivals Summer Programme.