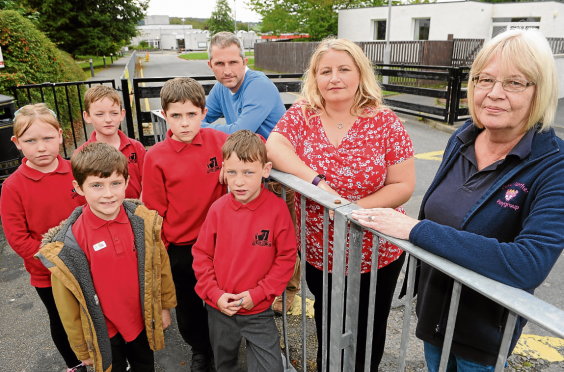 Two Inverness playgroups could face closure amid claims Highland Council is evicting them from their home.
The after-school clubs, which have been operating for a combined 60 years and regularly attract 30 primary pupils each weekday, face being disbanded due to the expiry of a council lease for the shared school premises.
The local authority insisted last night that talks were continuing and that it had never been suggested that groups should be shut down.
The Pink Panther Playgroup, a charity that has operated locally for 50 years, and Culduthel After School Club in the Holm/Lochardil community, believe they have just nine months to find an alternative venue.
Jo Guthrie, manager at Culduthel After School Club, said: "We've had over 200 children come through the club since we opened in 2007.
"We operate a waiting list system as demand has outstripped our ability to supply places.
"Unless alternative premises are found we'll be forced to close with the loss of four full-time jobs and the removal of yet another facility.
"We genuinely want to celebrate the achievements of those 60 years and look to the future.
"With the massive increase in houses in the local area, our main concern is highlighting the lack of community facilities at a time of growing demand."
Eight-year-old Archie Roberts, who has attended the after-school club for two years, gave it "five out of five" yesterday.
"It's one of my favourite places to go after school," he said. "Today, I built a rollercoaster out of wooden tracks."
His mum Sarah said: "I'd be lost without the place. "I'd had a childminder previously because my six-year-old, Innes, was too young to attend and the logistics of that, with working, was really difficult."
Pink Panther manager Lorraine Craigen said: "The government's early years policy promotes parental choice in childcare provision.
"However, this decision by the council will ultimately reduce provision for parents in Holm and Lochardil while local schools are bursting at the seams due to the number of houses being built."
A spokeswoman for Highland Council said: "Given the increasing demands on the school roll within Holm Primary, school accommodation and parental requests for Holm Primary to provide more flexible early learning and childcare, discussions took place with both Pink Panther and Culduthel After School Club earlier this year.
"They agreed to find suitable alternative accommodation from August 2018.
"At no point has there been a suggestion that either Pink Panther or the after school club should no longer continue. We look forward to continuing to work in partnership with them both.
"The decision is unrelated to budget cuts but reflects the demand for more flexibility and choice for parents in the school."
A party is due to be held for former children, parents and staff connected to the groups at Holm Primary at 2.30pm on September 29.