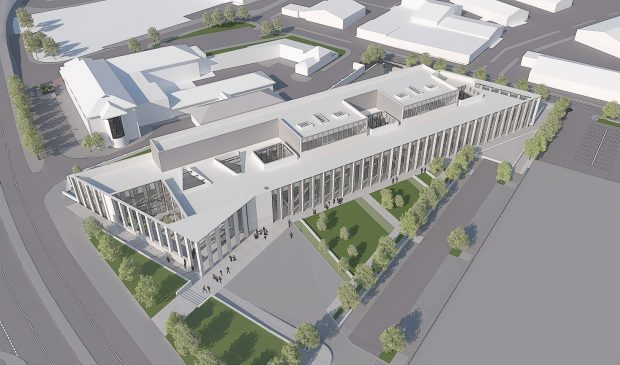 Councillors have approved revised plans for a new £23million Inverness Justice Centre – but not without their reservations.
The amended proposals by the Scottish Courts and Tribunals Service (SCTS) comprise courts, offices, a cafe, 47 parking spaces, 36 cycle spaces and ancillary accommodation.
Land in the Longman area of the city has been earmarked for the development, near the former Inverness College headquarters.
VIDEO: Demolition work clears way for new £23million Inverness justice centre
Changes approved by members of the south planning committee yesterday include a reduced floor area, altered external design – from a two-wing v-shaped venue to a single building and more open space.
The centre would enable the courts service to leave Inverness Castle and allow that to be transformed into a fully-fledged tourist attraction.
Some concern has been registered among the legal fraternity that a shared underpass nearby would be accessed by the accused and witnesses, posing a potential public safety issue.
But SCTS said there were alternative routes to the site and that they would work with the council on local infrastructure improvements.
And yesterday the service welcomed the decision by councillors, and confirmed that work will start in Nocember with completion scheduled for summer 2019.
During the committee's discussions yesterday,Inverness South councillor, Andrew Jarvie, said: "There's no question it's a very nice design but is it form over function?
"Most people will still drive there and I don't see why the council is taking on the burden of them not providing car parking (such as use of nearby Rose Street car park)."
Mr Jarvie also had reservations about different groups of people using the same path to access the court, adding: "We want this to go ahead and want our castle back as a tourist attraction but this just seems a totally bizarre design."
Caol and Mallaig councillor Ben Thompson said the focus should be more on improving the public transport access to the court.
Inverness Central councillor Richard Laird said the "big problem" was the parking issue but highlighted the importance of regenerating a brownfield site and increasing the number of building entrances from one to four, to separate witnesses and accused.
Committee chairman, Councillor Jimmy Gray, said: "I am very confident this will be one of the most accessible courts in Scotland and the UK as regards any transport by foot or bicycle, and the bus and rail access is good."