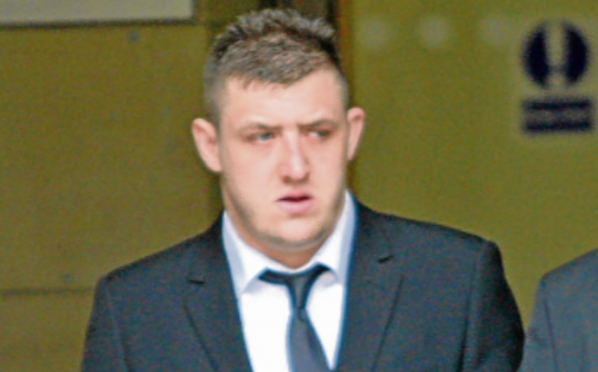 An "idiot" driver who killed a woman in a crash after speeding on a Highland road was jailed for four and a half years yesterday.
Steven Keiro's silver Mitsubishi Lancer collided with a car being driven by Linsy Gordon on the A862 Dingwall to Ardullie roundabout road, in Ross-shire, on October 24 in 2014.
Keiro lost control of his vehicle and drove into the path of the victim's oncoming car before the fatal crash.
The victim, a 49-year-old mother and care manager, died later that day in Raigmore Hospital after firefighters freed her from her vehicle.
She had been returning to her home in Evanton after walking in the Cairngorms with work colleagues.
A judge told Keiro at the High Court in Edinburgh: "This is a very serious matter. No sentence I can impose can be in any sense a measure of the value of the life that has been lost."
Lord Armstrong said that because of the level of criminal culpability shown by Keiro there was, in his view, no alternative to a prison sentence.
The judge pointed out that Keiro had previously committed a speeding offence prior to the "tragic events" that claimed the victim's life.
Keiro was also banned from driving for eight years and until he passes a driving test again.
Keiro, 25, of Cranmore Drive, Smithton, had denied causing her death by driving dangerously at excessive speed on the A9 and A862 and colliding with the other car on the A862 between Ardullie roundabout and Dingwall after losing control of his vehicle at an earlier trial, but was found guilty of the offence.
Following the verdict the court heard that technician Keiro had been banned from driving for seven months and fined £400 for a speeding offence at Inverness Sheriff Court in 2015.
When police arrived at the fatal crash the woman driver was trapped in her car and Keiro was lying on the road beside his vehicle, with extensive damage to both cars.
Kevin Ellis, 56, who was driving a bus between Tain and Inverness, told the court he saw a silver car ahead of him on the A9 and estimated that it was travelling at 80 to 85 mph on the road which has a 60 mph limit.
He told advocate depute Sheena Fraser: "I just thought 'what an idiot going at that speed'."
He later saw the car at the scene of the crash.
Keiro had previously offered a guilty plea to causing the victim's death by the lesser offence of careless driving.
His defence counsel David Nicholson asked him how he now felt about causing her death. He replied: "Absolutely horrific. It has never actually left my mind since the day it happened."
He said Keiro had shown genuine remorse and regret and was only 22 at the time of the fatal collision.