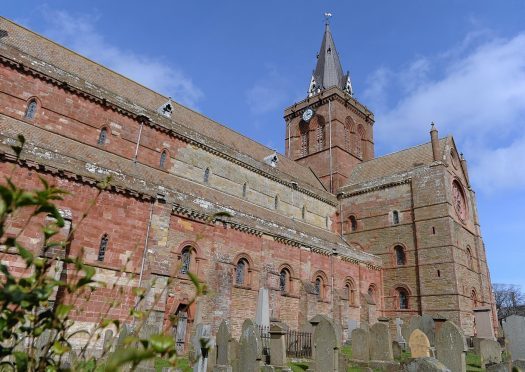 Community leaders have described the vandalism of Orkney's iconic cathedral during Remembrance weekend as a "disgrace".
Glass and memorials were damaged at St Magnus Cathedral in Kirkwall, which has been described as a "jewel of the community", but where a Remembrance service had to be carried out with boarded-up windows.
Councillor John Ross Scott, from Kirkwall East, said: "The talk at the service was all about the happenings within the cathedral, when we should be remembering those who died in the war."
He described the incident as an "assault" on what Orkney stands for, adding that action must be taken to prevent further vandalism in the future.
Mr Scott said: "It's a complete disgrace anyone should do this. It's clear there is a state of vandalism in Orkney.
"People have told me there have also been incidents of vandalism elsewhere in the town on that night and this has to be the end.
"This is the jewel of the community and, when something like this happens, it's a disgrace. It's an assault on Orkney and an assault on what we stand for."
Fraser Macnaughton, minister at St Magnus Cathedral for 15 years, spoke of his disappointment.
He added: "The window was smashed in the toilet and the Royal Oak, the memorial for the HMS Royal Oak, which has a glass top to it was also broken.
"The book of Romans was prised out and the glass was broken, and the glass on the top of the Society of Friends donation box was smashed, but no money was taken.
"It's very disappointing and, looking at some of the Facebook responses, there is a lot of outrage. But it's important to get a proper perspective. It's a situation where no-one was injured or attacked and the damage is repairable."
The cathedral on Broad Street is one of a number of premises to have been targeted during the early hours of Saturday morning, with further reports of vandalism at The Pickaquoy Centre and the local Co-operative branch.
A 19-year-old has been arrested in connection with the damage at Pickaquoy Loan, Pickaquoy Road, Great Western Road, Junction Road, Tankerness Lane and Broad Street.
Inspector Keith Bendall said: "We are requesting that residents in these areas check their properties and vehicles for signs of damage.
"Any damage found or anyone who has information regarding thsee incidents should contact Police Scotland on 101 or Crimestoppers anonymously on 0800 555 111."