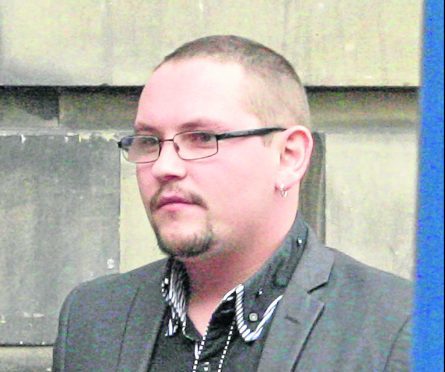 A "Jekyll and Hyde" criminal is facing a lengthy prison sentence after being convicted by a jury of raping and physically assaulting two women over a five-and-a-half-year period.
Michael Stuart, 27, preyed on the two females, who cannot be named for legal reasons, in Inverness and Fife.
The High Court in Edinburgh heard how Stuart started physically abusing his first victim in November 2006.
He then repeatedly raped her on various occasions between March 2007 and December 2007.
In October 2008, Stuart started to assault another woman. He continued to attack her until May 2012.
Stuart, who has previous convictions for assault and abduction, also raped her some time between November 1, 2011, and December 31, 2011.
The story emerged yesterday following a week-long trial before judge Lady Scott.
Stuart, of Burntisland, Fife, had denied any wrongdoing and pleaded not guilty to seven charges. Prosecutors withdrew two of the charges during proceedings.
Yesterday, after three hours of deliberations, jurors returned guilty verdicts to the five remaining charges of rape and assault.
Following the verdict, judge Lady Scott remanded Stuart in custody ahead of sentencing next month.
During proceedings, prosecution lawyer Mark McGuire told jurors Stuart started abusing his first victim when she was a pregnant teenager in November 2006.
The assaults, which took place at addresses throughout Inverness continued until January 2008.
Mr McGuire told the court how Stuart would seize her by the throat, hold her against a wall and would repeatedly punch and kick her on the body during the attacks.
On one occasion, the court heard how Stuart used a knife to cut the woman's clothing. He also called her derogatory names.
In his closing speech to the jury, the advocate depute described one of the times when Stuart raped his victim.
During the attack the court heard how she begged him to stop but instead he covered her mouth with his hand and also punched her on the stomach.
The woman told the court that she plucked up enough courage to give evidence after police investigating Stuart's behaviour contacted her.
The court also heard from Stuart's second victim who was also a teenager when she first met him.
She said Stuart could be charming and then angry within a few short moments, adding: "He was like Jekyll and Hyde."
Stuart will be sentenced at the High Court in Edinburgh on December 12.