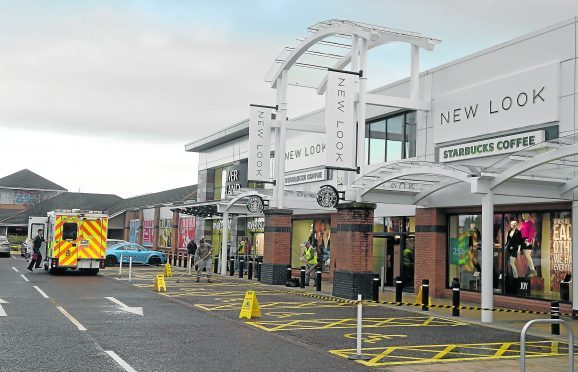 One of the busiest retail centres in Inverness has been temporarily closed amid safety concerns after a man was injured by a falling pane of glass.
The man in his 30s was taken to the city's Raigmore hospital with facial injuries after the incident at the Inverness Centre retail park on Eastfield Way yesterday afternoon.
It was the second incident involving the outdoor canopies that run along the front of the shops within three days.
The area was immediately cleared of debris which had spread over an area of pavement ouside the New Look store.
Eyewitness Stuart Colcough said: "I was walking out, I took one step then I heard this massive bang."
He said: "I just managed to get back in the shop, me and this lady, we took some glass, but we heard this massive crash.
"This guy got it right on the head, he was knocked to his knees, and was holding his head, and he was bleeding.
"We immediately shouted at them in the shop to call an ambulance and to bring some tissues."
Mr Colcough added: "Then this lady came out of New Look and said the same thing happened on Sunday before trading hours – I was really annoyed when I heard that."
The Scottish Ambulance Service said: "We received a call at 1406 hours today to attend an incident at the Inverness Business and Retail Park."
Laura Jones, a shopper who came upon the scene, said: "At first I thought someone had fallen through the door but realised the glass came from the roof."
She added: "It made me think: is it safe? They are all about the same age and could be a bit loose: we were lucky because we could have started at the other end."
Miss Jones' friend Erin Alison said "I remember the same thing happened a year or two ago, as well."
Councillor Duncan Macpherson said: "Safety-wise it is a bit shocking, I am worried about it and I am urging building control to look at it very seriously."
"We need to have assurances from health and safety and building control."
In June a woman narrowly avoided being hit by falling glass at the retail park along the same concourse but outside a different store.
A spokesperson from the Inverness Centre said: "We are investigating the cause of an incident that has occurred today at the Inverness Centre.
"The Inverness Centre is temporarily closed while we evaluate the cause of the incident.
"The safety of our customers and staff is our highest priority."