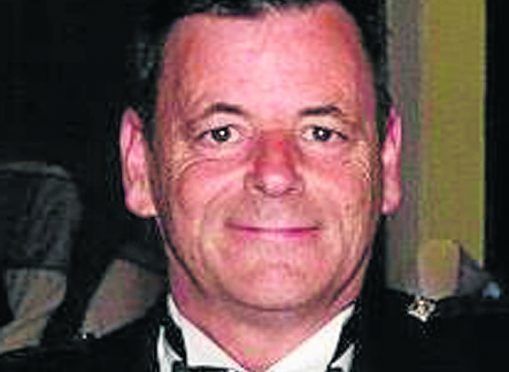 The man injured by falling glass at the Inverness Centre retail park said he fears "someone could have been killed" after speaking about the incident publicly for the first time.
Fifty-seven-year-old Gary Mitchell from Ardersier said he was standing talking to friends when "the glass exploded and just came down on our heads".
He said: "I got knocked on the head and knocked to the ground" adding: "someone could have been killed."
Shortly afterwards Mr Mitchell was taken to hospital and treated for wounds including facial lacerations.
All glass to be checked at Inverness Retail Park following incident
Highland Council has slapped a "dangerous building notice" on Inverness Retail Park, forcing the continued closure of the majority of shops until the site is deemed safe.
The shock move has left a serious question mark hanging over when the park will fully reopen.
A spokeswoman for the local authority said: "The Council's Building Standards have issued a dangerous building notice [Under Building Scotland Act (2003)] for the Inverness Retail Park.
"This means that the park cannot open until measures have been put in place to meet the conditions of the notice to make the site safe."
The notice on the local authority's website states the nature of the complaint is "defective glazed canopy," describing it as a "dangerous structure."
The website says the notice is served as of today's date, and expires on December 14, although the council has to power to issue a further notice if it is not satisfied the necessary work has been completed.
The Building Scotland Act says the local authority can withdraw the notice at any time, or waive and relax any requirements.
Earlier in the day the man injured in the falling glass incident at the Inverness Centre shopping park spoke about his experience.
The closure of the retail park has seen shoppers flock to Inverness city centre, the manager of the Eastgate Centre, Jackie Cuddy, said: "The centre is very, very busy today."
She added: "Yesterday, Argos and Boots noticed an increase and were very busy because, of course, they have shops up at the retail park closed."
Mike Smith, Inverness' Business Investment District boss noted: "The city centre is benefitting from the closure of the retail park – that is certainly the feel we are getting from the businesses."
The incident involving Mr Mitchell was the second in three days and the third this year after a woman experienced a near-miss in June.