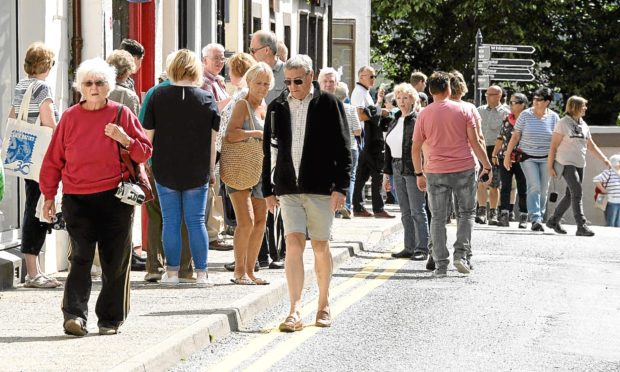 Plans to improve tourism infrastructure on Skye have taken a step forward with new facilities for a major attraction.
Parking and a toilet block will be developed at the Fairy Pools after the Scottish Land Fund granted £38,500 to Minginish Community Hall Association towards buying land from Forestry Enterprise Scotland.
This comes on the back of a £100,000 grant from Highland Council.
The association will use the cash to take ownership of the small car park next to the famous beauty spot along with 30 acres of woodland.
Richard Powell, member of Minginish community hall association, said an increase in tourism had brought problems due to the number of vehicles parked at the Fairy Pools this summer.
He added: "Last year we had 108,000 visitors, but the car park only holds 35 cars.
"They began parking on the road going into the car park, which is a single track road, and parking in the passing places.
"People living in Glenbrittle struggled to get down the road and out of their homes. It was blocked with people visiting the pools. It got dangerous and something needs to be done."
The new car park will provide an additional 100 spaces.
Mr Powell added: "Car parks are congested at all tourist destinations.
"We will charge for parking to pay for repairs and maintenance.
"Excess money will be put into local projects, for affordable housing and for a play park. There are a lot of projects that we would like to do to support local groups."
Glendale Community Council, meanwhile, is also taking its first steps towards making improvements through the publication of a new report.
It outlines detailed suggestions to provide better facilities to cope with growing numbers of visitors.
The island attracts thousands of holidaymakers a year, visiting sites such as the famous Neist Point Lighthouse as well as the popular Three Chimneys restaurant.
The community council aims to launch a stakeholders group involving various organisations, including Highland Council and Highlands and Islands Enterprise.
They hope to put together a plan to create facilities such as public toilets for the area, as well as improve traffic congestion.
Vice-chairman Kevin Stockley said: "There are a range of options to be considered many of which, if delivered properly, will make a real difference to locals and tourists alike.
"It won't be long until the tourist season is back in full swing and we simply cannot be in a situation where improvements have not been delivered.
"We must make sure our communities and island are ready to welcome visitors."