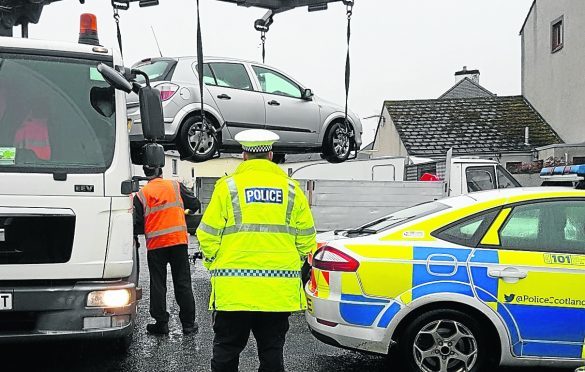 Police have seized more than 50 vehicles and clamped a further 40 in a week during a major crackdown on abandoned and untaxed vehicles in the north.
Offices took to the streets for a week-long operation following a series of complaints throughout the Highlands and Islands.
A number of other road traffic offences were also detected, including vehicles being driven without insurance.
Constable David Miller said the action taken had been well received by the public.
He added: "The owners of all the vehicles which have been clamped or seized will receive fines in addition to the vehicle excise due directly from the DVLA.
"These will be sent to the individuals concerned on completion of the operation."
The full week of action is the beginning of an ongoing operation by the force to crack down on reports of uninsured drivers across the Highlands.
Gregor MacCormick, Highland Council's senior environmental health officer, said: "The Environmental Health team very much welcomed the operation this week.
"Abandoned cars cause significant concern within communities and the council spends a considerable amount of time and money in investigating and removing such vehicles."
Police Scotland have been working in collaboration with Driver and Vehicle Licensing Agency (DVLA) and Highland Council environmental health enforcement officers, along with other partners including the Health and Safety Executive, trading standards and HM Revenue and Customs in carrying out enforcement action across the north of Scotland.
Chief Inspector Iain MacLelland added: "I am delighted to have the support of partner agencies in this co-ordinated approach to abandoned vehicles in our community.
"Local residents have consistently raised concerns about anti-social behaviour linked to these vehicles and there is the obvious danger of vehicles being used which are not roadworthy.
"Seizing these vehicles will not only clean up local communities but also keep our roads safe."