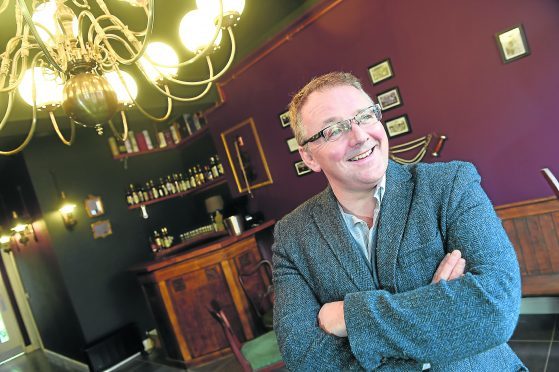 Scotland's first ever crowdfunded bar has opened in Inverness.
The owner of Mac-Gregor's turned the former shop into a pub with the help of money collected through a fundraising campaign.
And musician Bruce MacGregor hopes the bar could eventually roll out in other countries and become an international success.
The crowdfunding campaign raised a staggering £170,000 of the total £210,000 cost of the refurbishment.
Mr MacGregor said his motivation for the bar was to celebrate Scottish culture and art.
Cocktails will be made to celebrate the lives of Robert Burns, philosopher David Hume and darts player Jocky Wilson.
Opening on St Andrew's Day on Thursday seemed the perfect way to launch the new business.
Mr MacGregor, who is well-known locally as the founder of contemporary violin group Blazin' Fiddles, said: "Everything about it is Scottish and St Andrew's night gave us a birthday party to look forward to.
"I have been talking about having a bar here since primary school, and some of my friends reminded me of that.
"Every time I have ever been to a Scottish bar I felt really let down, a lot of the time they have taken the worst elements of Scotland. They have stuck up a flag and then any old lager, any old whisky, it is a cheap imitation of what Scotland is really about."
Mr MacGregor said he wanted to capitalise on the wave of great cultural and culinary offerings available instead of a shortbread tin version of the country. Next the plans are to go international with friends in Singapore, New York and Boston talking about the possibilities of opening up venues abroad.
Mr MacGregor added: "We are trying to do things which involve history and culture."