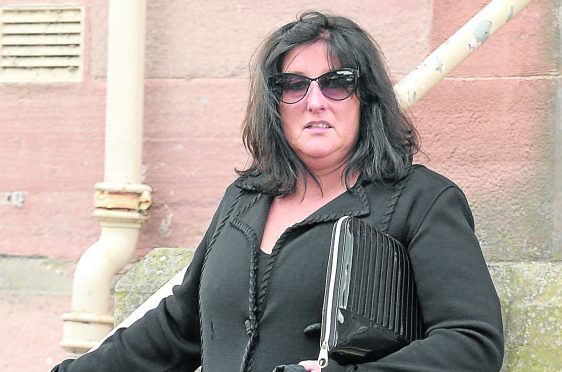 A Highland businesswoman was jailed for 18 months yesterday for thrusting a champagne flute into the face of a guest at a cancer charity fundraising event,
Deborah Morren wept in the dock and pleaded with the sheriff "No, don't, please" as security staff escorted her to the cells.
Sheriff Margaret Neilson said: "I accept this was out of character. However, the offence is of such gravity, only a custodial sentence is appropriate."
Defence solicitor advocate Shahid Latif argued that 54-year-old Morren could be dealt with by imposing the maximum hours of unpaid work in the community because she was suffering from post-traumatic stress at the time of the offence and is a first offender.
He said: "This was unpremeditated, a momentary loss of control and out of character.
"She has also shown appropriate remorse, contrition and regret and is at the lowest risk of re-offending."
Mr Latif said a combination of alcohol and medication had contributed to her behaviour, adding: "This has come to haunt her.
"It was an aberration and a slow fuse to the disintegration of her life. She also acknowledges the severe impact this has had on her victim."
The incident took place in the Drumossie Hotel in Inverness at about 1am on October 30 last year at a fundraiser for the Highland Hospice.
Morren, of Broadbank, Muir of Ord, previously admitted assaulting Gail Macdonald to her severe injury and permanent disfigurement and various reports had been called for, delaying the sentencing.
The court heard that Morren had thrown the contents of her glass on to Mrs Macdonald before hitting her with the flute.
Morren waited for police to arrive before admitting the assault to officers.
Fiscal depute Roderick Urquhart said Morren was "heavily under the influence of alcohol".
Mrs Macdonald had to have glass shards removed in hospital from her upper lip and required 24 stitches to her mouth injuries.
A cut on her nose, her lower lip and below her left eye also required stitching. Mrs Macdonald also required further treatment for an infection, as well as dental work.
Mr Urquhart said: "A further incident occurred involving Mr Morren and Mrs Macdonald's husband.
"Several other patrons and Mrs Macdonald all intervened. Morren appeared, turned in the direction of Mrs Macdonald and threw an unknown liquid from a champagne flute in her face.
"Mrs Macdonald approached her shouting 'what did you do that for?' Morren drew her arm back and struck her on the face with the flute, causing it to break, and blood from the injury sprayed over persons in the area.
"First aid was administered by a staff member. A witness said she just sat down and waited calmly for the police to arrive."