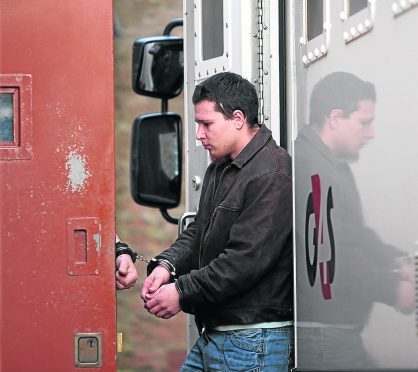 A sheriff has jailed a man who sparked an armed siege – days after the Manchester Arena terrorist atrocity – for 18 months yesterday.
Michael Kucera had already been arrested for stealing a 30ft vessel from moorings in Fort William, then consuming a bottle of rum before running it aground and refusing to be rescued.
After the west coast drama at sea, Kucera received psychiatric treatment before returning to the Lochaber town and walking into the local library wearing a rucksack, holding a replica gun and terrifying staff.
At an earlier hearing at Inverness Sheriff Court, Kucera admitted theft by shipbreaking, culpable and reckless conduct, possessing offensive weapons and behaving in a threatening manner.
Fiscal depute Michelle Molley told Sheriff Gordon Fleetwood that the alarm was raised on March 29 when a witness saw a distress flare being set off from the vessel.
He set off down Loch Linnhe naked apart from a waterproof jacket. He later ran the boat aground, refused to be rescued by the coastguard and made his own way ashore where he was arrested by police.
A doctor examined him and it was decided he needed psychiatric help. But the court was told that the day after his release from New Craigs Hospital in Inverness, on May 25, Kucera returned to Fort William.
He walked down the High Street brandishing what appeared to be a semi-automatic pistol and then entered the local library. He had placed the gun, which turned out to be a replica BB gun, on the counter and when asked if it was real, he told an employee: "What do you think?"
Kucera remained in the building for around half an hour before armed police surrounded the library.
When 26-year-old Kucera emerged from the front door, he was bundled to the ground and his rucksack cut from his back and taken away a safe distance in case it contained explosives.
Kucera, who was living rough in the area, has been on remand since the incident. His sentence was backdated to May 29.
His solicitor advocate, Shahid Latif, said: "Given what occurred elsewhere in the UK a few days earlier, he is acutely embarrassed. He has come to realise the enormity of how his behaviour was perceived that day and he apologises."