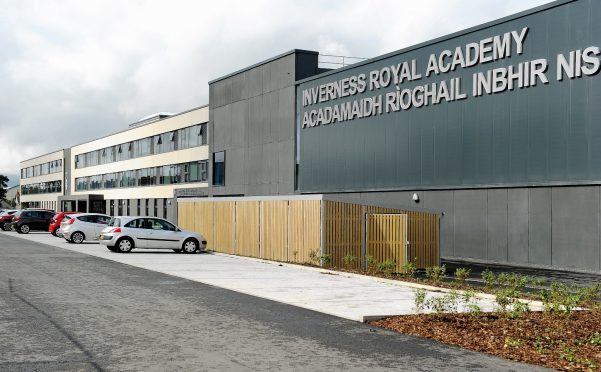 Missing toilet doors and a lack of air conditioning are among the latest issues to blight Inverness Royal Academy.
One of three cubicle doors is missing in the staff female toilets, while users of the High Life Highland-operated gym hall have complained about a lack of ventilation and not being allowed to open fire doors for air.
Other problems in the school, which has a roll of about 1,050 pupils, include a set of automatic doors not working and a faulty tea urn in the staff room.
A Highland Council spokeswoman, also on behalf of High Life Highland and contractor Morrison Construction, said they were working to address all of these issues and that the tea urn and toilet door will soon be replaced.
Inverness South councillor Duncan Macpherson, who spoke to staff, parents and leisure facility users about the problems, said: "The public are appalled that this high profile school has not been handed over in a condition we would expect following the enormous investment made.
"Morrison Construction should come before Highland Council to explain why the school was handed over with thousands of snagging difficulties and a year on, parents are scratching their heads and wondering why the school still has hundreds of issues."
In August, the £34 million school suffered major flooding when contractors testing new cookers set off the sprinkler system – and nobody could work out how to turn it off.
Previous issues at the school, which opened last summer, include the wrong materials being used during gas pipe installations, power outages and leaky roofs.
Inverness South councillor Ken Gowans said: "This has been going on since the moment the school was built and we continually get assurances and reassurances that the school will be inspected, but yet we are continuing to see more of these deficits."
A Highland Council spokeswoman said: "We are aware of a damaged toilet door at the Inverness Royal Academy building and this will be repaired as soon as possible. Regarding a faulty tea urn – this has been reported and is due to be replaced.
"We are aware that the ventilation system in the new Inverness Royal Academy Gym is not meeting the comfort needs of some users. Therefore we are investigating as to how this situation can be improved.
"We are aware of issues with the automatic doors in the Inverness Royal Academy building which are related to security settings and timings that the public are allowed access to different areas of the property.
"There is a programme of ongoing works to improve the situation. The council is assessing the public expectations of access to doors that a pre-programmed to be open and closed at different times of the day and days of the week."