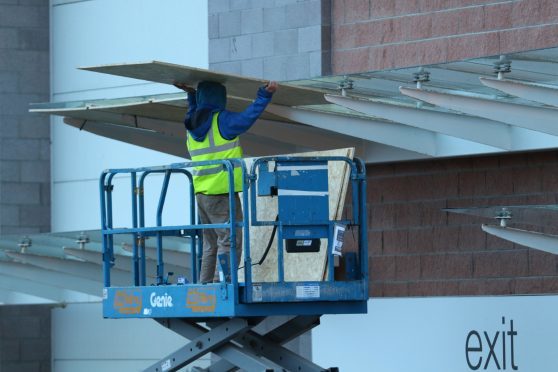 A crack has been found in another pane of glass at a city retail park, it has emerged.
The flaw was discovered above the Dunelm outlet in Inshes Retail Park on Thursday evening. Repair work was carried to make it safe at that time.
However, the next day the home furnishing retailer, which is responsible for its own frontage, decided the best course of action was to remove the panel.
A Dunelm spokesman said: "We can confirm a panel of canopy at the side of our Inverness store has been removed as a precautionary measure after a crack was detected in the panel.
"As soon as the crack was detected we cordoned off the area and had the panel inspected by the relevant authority."
A Highland Council spokeswoman said: "It appears to be unrelated to the other incidents. The glass has not shattered and the panel is still in place in the canopy."
Council building standards officers attended the scene and oversaw some of the work being done to make the site safe.
Matalan was the last remaining outlet that was closed but it was hoped it would be free to reopen by yesterday evening.
Despite that Highland Councillor Ken Gowans said he feels this calls into question the standard of maintenance and care at the park.
"I am surprised the cracked pane was not discovered earlier during routine maintenance. We need to get assurances that regular inspections are being conducted to ensure public safety."
"There should be records kept that provide regular documentary evidence that an appropriate maintenance inspections were carried out to ensure public safety.
Councillor Gowans added: "Clearly the public have had their confidence knocked between these incidents and the other one at the Inverness Centre."
In November a man was struck and injured by falling glass at the Inverness Centre Retail Park leading to Highland Council issuing a dangerous buildings notice and closing the park for five days.
Then earlier this week a similar incident at the Inshes Retail Park led to some of its outlets being forced to shut for the same reason.
Councillors and locals alike have been vocal in the criticism of the how glass designed to shield shoppers from the elements suddenly became dangerous.