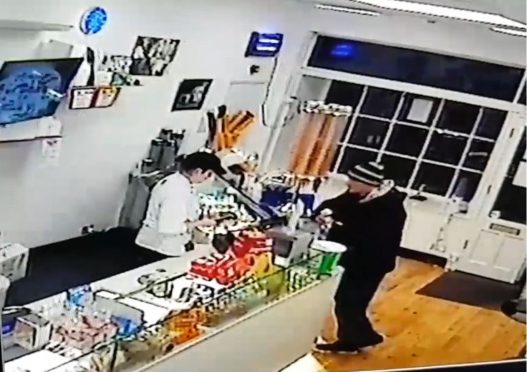 A thief in Inverness has been dubbed an "utter low life" by the owners of an ice cream parlour after stealing a charity collection box.
Staff at Miele's Gelateria gave a customer the benefit of the doubt when his card was declined – and let him have his cone for free.
HELP US FIND THIS UTTER LOW LIFE THAT STOLE OUR CHILDREN'S CHARITY BUCKET FOR CASH FOR KIDS!!!Here is the footage from our CCTV within the shop where this disgraceful human can be seen trying to pay for a cone, for which his card was refused several times (probably not his either). We however as a gesture of good will allowed him to enjoy the cone on us!!! As seen in the footage you can see this absolute waste of space leaves with his FREE cone then runs back in to the shop to steal our Cash For Kids Bucket with around £200 in it! Absolutely sick! LET'S FIND THIS WASTER, NAME AND SHAME HIM!!!We hope to catch this disgusting thief and have him repay every penny he stole to charity and to the community by community service indefinitely!!! The footage has been passed to the police also, so the race is on Public vs Police to find this low life disgrace!!!THANK YOU TO EVERYONE FOR YOUR SUPPORT IN THIS AND AMAZING GENEROSITY SO FAR!!!! We also will be personally donating to try re-raise the charity funds lost!

Posted by Miele's Gelateria Inverness on Monday, 8 January 2018
But it was the next day before they noticed the Cash For Kids donation tin had gone – and CCTV told them who the culprit was.
Now a social media post of CCTV footage of the theft has been watched more than 36,000 times and shared more than 1,500 times.
The incident happened on Saturday around 9.30pm at Miele's Gelateria on Church Street but the box, holding an estimated £200, was only noticed as missing on Sunday.
The owner Michael Miele, 24, said: "He came in, he looked a bit suspicious, a bit dodgy, but we take every customer as they come because you don't know who people are."
After ordering a cone the man was unable to pay because of his card not working so Mr Miele showed him "a bit of goodwill" and said he could pay another time.
Mr Miele said: "He has walked around the shop and eyed up the situation as he's been walking round and planned it all out and then left the door open."
In the footage the as yet unidentified man can be seen behaving nervously before leaving and then waiting for the server to turn her back to sneak in and grab the box.
Mr Miele is furious not just that the thief took advantage of the initial kindness shown to him but that he "took from kids, kids who have nothing".
"It is out there so that everybody can see who this guy is and also so that other people and other businesses don't have the same problem.
"We are delighted with the response that we have seen on Facebook and our social media has been going berserk about it.
"People on there were actually donating online to Cash for Kids, which is absolutely wonderful."
He added: "It just shows you the community-feel that everybody tries to get together when something happens to make up for this minority."
A Police Scotland spokesman confirmed inquiries into the theft were at an early stage and investigations were ongoing.