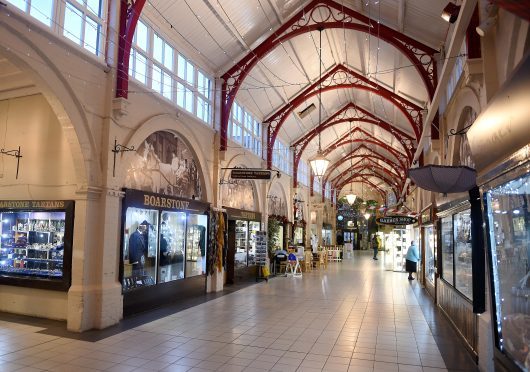 The roof of Inverness's historic market has sprung a leak – sparking fears from one councillor that ambitious plans to develop the 127-year old structure could be "undermined".
The current leaks are in the Queensgate end where red barriers have been placed and carpeting put down to absorb the water to protect the public.
The roofing has been a problem for a number of years with the council spending close to £1million to secure the areas of the market under its control.
However, the Queensgate section is understood to be in "private ownership" and the local authority said it is only responsible for the public access route through the market.
Richard Laird, Highland Councillor for Inverness Centre said: "I am surprised and disappointed to hear it is leaking already.
"The Highland Council and traders have ambitious plans for the market as a whole and they will be undermined by buckets to catch the rain."
Local historian Norman Newton who studied the workings of the Victorian Market is also concerned at what could happen to what is a B-listed building.
He said: "It is obvious that it is something that has to be fixed and has to be attended to properly as soon as possible.
"The original roof burnt down in 1889 and when they replaced it in 1890, they invested heavily in ironwork so they had a metal frame and glass to make it less combustible."
He said: "The roof is a very important part of the story of Inverness Market and I would be very keen to see it restored and fixed up as quickly as possible."
The problems of keeping the market watertight have emerged repeatedly over the years with the Queensgate Arcade suffering the same water ingress problem last February.
At the time the Highland Hospice shop had to resort to placing sandbags in front of its door to stem the flow.
This comes just two months after a vision to breathe new life into the market that is aimed to turn it into a tourist "magnet."
The plans were to develop the market in such a way as to rival the best traditional indoor markets in Europe, including introducing late night dining, cafes and live entertainment.
Those proposals were reflected the council's city centre development brief while supporting existing retailers.