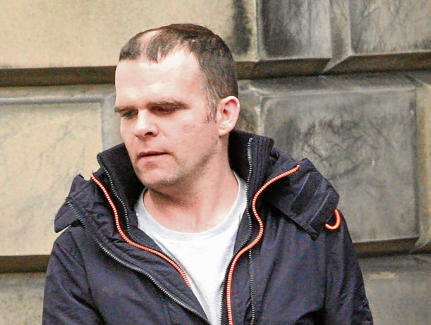 A drug-fuelled thug who tried to wound a police officer with a craft knife and then bit him had his prison sentence quadrupled by appeal judges yesterday.
Robert MacAllister was jailed for 19 months following a Crown appeal and was told the sentence would have been longer were it not for him having already served the 145-day prison term originally imposed.
MacAllister, 35, was originally dealt with at Inverness Sheriff Court in November last year but was released immediately because of the time he had served on remand.
He had earlier admitted assaulting two police officers on August 6 last year in the High Street in Dingwall. He tried to strike PC Michael Howitt with a knife, narrowly missing him, and sank his teeth into his forearm with such force that he broke the skin.
He also struggled with the officer and his colleague PC Kevin Forsyth and spat at both men during the incident.
Prosecutors argued successfully that Sheriff Simon Bowie QC sentence was unduly lenient given the nature of the crime and MacAllister's criminal record.
Advocate depute Alex Prentice QC told the Court of Criminal Appeal in Edinburgh that MacAllister had a record spanning 19 years and had previously been jailed for assault, including police assault, and had further convictions for resisting police and offensive weapons.
Mr Prentice QC said: "It can be said in this case that the sheriff has erred in the approach taken."
Defence solicitor advocate Ann Ogg argued that the sentence imposed on MacAllister was within the range for offences such as the sheriff was dealing with. She said that when MacAllister was shown mobile phone footage of the incident he put his head in his hands and told his lawyer he could not watch because he was so upset at his behaviour.
The Lord Justice Clerk, Lady Dorrian, sitting with Lord Menzies and Lord Turnbull, said: "We are satisfied the learned sheriff misdirected himself and as a result imposed a sentence that can be properly regarded as being unduly lenient."
The senior judge said that an appropriate starting point for the offences was a 30-month jail sentence but they would reduce that to two years because of the six month starting point originally chosen by the sheriff. That would be further cut to 19 months to take account of MacAllister's guilty pleas.