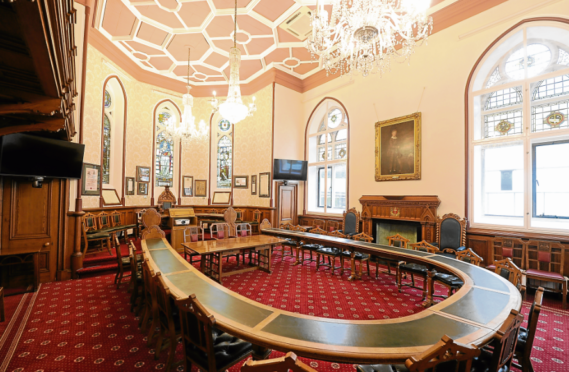 More than 3,000 people visited the newly-reopened Inverness Town House over the weekend to see the £3.9 million refurbishment for themselves.
On Saturday, around 2,000 people attended and on Sunday a further 1,200 came to see the Grade A listed building, constructed in 1882.
So far the work has taken two years.
Provost of Inverness and Area Cllr Helen Carmichael said after the open weekend proved a success open days could become a regular feature.
Mrs Carmichael said: "It has long been an aspiration of Inverness Councillors to see the Town House open to the general public on a regular basis.
"For many years the Town House has participated in the annual national Doors Open Days scheme, but this was only once a year."
She added: "Given the success of this past weekend) we are working on a plan to open the Town House on Thursdays to the public."
So far the public have warmly welcomed the development with Ross Burgess, 32, a company director, from Inverness saying: "It's brilliant; absolutely superb.
"It's a pity it couldn't be used more for public use. I think they have done a fantastic job. It's something Inverness should be proud of."
Phase 1 and 2 of the renovation work was carried out by Laing Traditional Masonry and completed on time and £300,000 under the projected £4.2 million budget.
The work was funded by the Inverness Common Good Fund and Historic Environment Scotland.
Phase 3 of the works will include full stone repairs and replacement, mortar re-pointing, guttering and window repairs and replacement.
That final phase will deliver the completion of the Town House at a total cost to the Common Good Fund of somewhere in the region of £5.4 million.