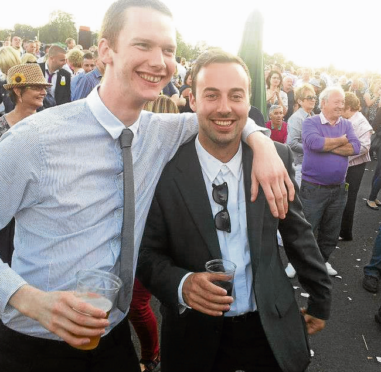 Groom-to-be Eamonn Colgan – brother of missing Inverness man Liam Colgan – last night flew back to Hamburg in a poignant return trip to look for the 29-year-old postman who vanished on a stag trip in the German city five days ago.
Part-time musician Liam went missing during a stag party he had organised for his 33-year-old brother Eamonn, who is set to marry fiancee Susan in the Highland capital next month.
Eamonn is desperate to find Liam, who is set to be his best man, and yesterday returned to the German city with his bride-to-be to make a public appeal for help in trying to trace his brother.
"We fear the worst as time goes by": Groom-to-be makes emotional plea for brother missing in Hamburg
Eamonn told the Press and Journal last night: "We have to try every possible way to find out what happened to Liam.
"Obviously as time goes by we fear the worst, but we must focus on finding him. We need to know what has happened.
"We are aiming to widen the appeal and reach out to anyone who may have met or seen Liam on the night he disappeared."
Rivers and canals searched as Hamburg police attempt to find missing Inverness man Liam Colgan
Eamonn and Susan are due to meet with detectives leading the missing person inquiry this morning.
They have also scheduled a number of interviews with German media in a bid to highlight the case.
The 18-strong stag party flew out to Hamburg on Friday on a weekend arranged by Liam.
They visited a brewery and a number of bars before heading to the Veermaster bar in the notorious Reeperbahn area of the city, which is the centre of Hamburg's red light district.
Liam was last seen leaving the bar by himself at about 1.30.
He failed to return to the hostel the stag party had been staying at. His mobile was going to voicemail, with the battery believed to be dead, and when he failed to attend a five-a-side football match he had arranged the alarm was raised.
Eamonn said: "I would love for him to pick up the phone and say he is ok and will be home for the wedding.
"This is totally out of character for him. He is not someone who goes partying on his own or takes drugs. He was not in a low mood and was very close to the family."
A spokesman for police in Hamburg said searches were being concentrated on the harbour area, including the River Elbe and canals.
He added that 6ft Liam, who had reddish, short, shaved hair and a three-day beard, had on a brown leather jacket and denim trousers at the time he was last seen.