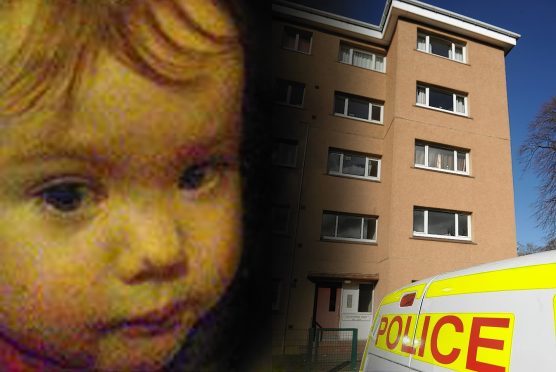 Tragic toddler Clyde Campbell was neglected for months before his death after police, social workers and Named Persons all "missed" various opportunities to protect him.
A damning report has exposed how "all agencies" could have taken "more direct and timely" action to safeguard the two-year-old before he was
found dead in a "filthy and chaotic" flat in Inverness.
With the fourth anniversary of Clyde's cot death due to pass tomorrow, the Press and Journal can reveal that social workers, police officers and controversial Named Persons were made aware of issues with the family on a "regular basis" and visited the home on "several occasions".
But just weeks before the toddler died, he was assessed as being "well and properly looked after at this time".
An inquiry has exposed a catalogue of failures in the lead-up to the death of two-year-old Clyde Campbell in Inverness, concluding that "more direct and timely intervention could have been taken" by all agencies.
In a finding that raises fresh doubts about the controversial roll-out of the Named Person scheme, the review revealed that Clyde's Named Person had "significant concerns" about his welfare but that the mechanism for highlighting their fears "was not clear to the practitioners involved".
And just weeks before he died, social workers heard that an anonymous call had been received to say that his home was "smelling badly, with a lot of animal excrement and rubbish lying about", and that Clyde was being left without adult supervision while his mother Amanda Hardie went out to work at a nightclub.
But after a welfare check was arranged, the issue "was not discussed as a child protection concern" during the police's feedback to social workers.
A raft of changes to policies and procedures have been implemented in the wake of the investigation.
Clyde died of cot death on February 23, 2014 – four years ago tomorrow – after months of neglect at the hands of Hardie, who stayed at a boyfriend's house the night before he died.
A post mortem found no evidence of his death being directly linked to the neglect, but Hardie was sentenced to 10 months in jail in May 2016 after pleading guilty to wilfully ill-treating, abandoning, neglecting and exposing the child to unnecessary suffering or injury.
The Highland Child Protection Committee commenced a "significant case review" into the circumstances in July 2016, a few weeks after the Press and Journal reported that Clyde – known as "Child R" in the inquiry – had no contact with his Named Person in the year-and-a-half leading up to his death.
It can now be revealed that the probe concluded that there "were several occasions over the years before and after the birth of Child R that more direct and timely intervention could have been taken to protect" the youngster, and that "this is true of all agencies".
While Hardie was pregnant with Clyde, she had "ongoing contact with adult mental health services and continued to be a patient of adult mental health services", but despite this there were "no concerns" raised by Clyde's midwife during a handover to the next Named Person, a health visitor.
In 2013 a housing officer did highlight "the dirty state of the home" to Clyde's health visitors, while other agencies also expressed safety fears.
Hardie was said to have persuaded a neighbour to lie to police and say that she often babysat Clyde, but police did not raise any doubts when completing a welfare check – an event described as "a missed opportunity to actively assess the child's living environment to inform child protection considerations".
The review said: "The transition between the responsibilities of the Named Person to the need for active social work involvement due to serious child protection concerns did not begin to occur until a senior social work officer was alerted to the case and immediately asked for further assessment.
"This should have happened at an earlier stage.
"What is clear is that there were several occasions when child protection processes could have been instigated and were not and times when important information was not sought or shared that could have better informed assessments of how the family was functioning to enable interventions around neglect."
The review made four recommendations to try to learn lessons from the case, including that all Named Persons "must be fully aware of the remit and limitations of their role and they must understand how to raise and share concerns appropriately and what actions to take when they have significant child protection concerns".
The report also outlines nine changes that have been implemented in response, such as improved child protection training, updated policies, and new escalation procedures for concerns.
Highland Council and the police declined to comment last night.
A timeline of a tragedy
August 13, 2005: Amanda Hardie fined £300 for repeatedly hitting a friend on the head with a shoe in a drunken fight in Inverness.
August 16, 2005: Hardie sentenced to four months detention at Elgin Sheriff Court for assaulting two paramedics as they treated her following a row with her former boyfriend.
September 16, 2009: Kevin Campbell, who would later father Clyde, jailed for a year for attacking Hardie with a metal dog chain and clay pot in her Inverness home.
2011: Hardie had ongoing contact with adult mental health services and was a patient of adult mental health services throughout her pregnancy and following Clyde's birth.
January 20, 2012: Clyde Kevin Campbell is born.
January 31, 2012: Named Person (health visitor) makes contact with the family at their Inverness home.
February 16, 2012: Named Person makes contact with the family at their home.
March 2, 2012: A colleague of the Named Person visits the home.
April 17, 2012: The Named Person makes telephone contact with the family.
August 8, 2012: The Named Person makes telephone call and leaves a message. Mother responds that she did not want further contact from the health visitor.
December 2012 until February 2014: Hardie has a job in a nightclub in Inverness, including weekend working between 9pm and 3am.
2013: A housing officer arrived at the home with a gas engineer and later raises concerns about its "dirty state" with Clyde's health visitor.
September 2013 to February 2014: Hardie failed to keep appointments with social work, health and education officers, including missing "essential" appointments with Clyde's health visitor.
Late 2013: The NSPCC contact social work staff having received an anonymous call reporting the flat where Clyde was living was "smelling badly, with a lot of animal excrement and rubbish lying about", and claiming that Clyde was "often" left without adult supervision. Social workers arranged a police welfare check and Clyde was seen with his mother at a friend's flat, being assessed as being "well and properly looked after at this time".
February 23, 2014: At 4am Hardie finishes work and goes back to a boyfriend's flat, where they both fall asleep. In the early afternoon there are concerns about Clyde and a neighbour sees him, lifeless, on his bed and fights desperately to save him. Clyde is declared dead at 3.11pm.