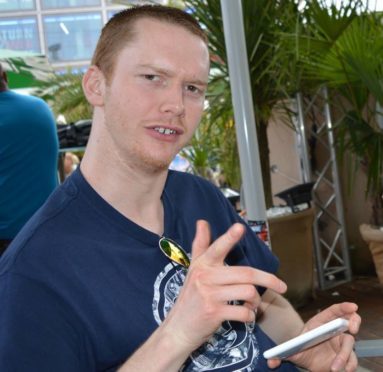 The brother of missing Inverness man Liam Colgan "remains positive" his best man will still be found alive exactly three weeks after vanishing during a stag party in Germany.
Speaking yesterday – on what should have been his wedding day – Eamonn Colgan, 31, said the family was now planning to widen the appeal because they believe Liam may have left Hamburg.
Eamonn, who cancelled his wedding to Susan Dolan, 33, while the search for his brother continues, said: "It is obviously very upsetting that he is not here today for what was to be my wedding. We should be celebrating rather than searching for him.
"The wedding will still go ahead, but we need to have Liam here with us. We remain positive that we will find him alive."
He added: "We believe he is still alive, but we don't know what has happened to him.
"One theory is he sustained a head injury on the night he went missing and that has confused him as to who he is and where he is.
"He may have lost his memory and not even be aware that he is actually lost."
He added that there was a strong possibility he was no longer in Hamburg given possible sightings of Liam had declined over the last week or so.
Eamonn, who is originally from Inverness but lives in Dundee with his fiancée and two children, said they were now trying to raise awareness about his missing brother further afield.
He added that the Lucy Blackman Trust, which supports families of people missing in Europe, had records of people turning up in different countries weeks after disappearing because of memory loss.
Eamonn said: "It is apparently very common, so we still believe there is a chance he is alive somewhere."
The family thanked the public for their support, both emotionally and financially, since Liam disappeared.
Eamonn continues to make public appeals in Germany, and a campaign delivering 250,000 leaflets throughout Hamburg is to be carried out.