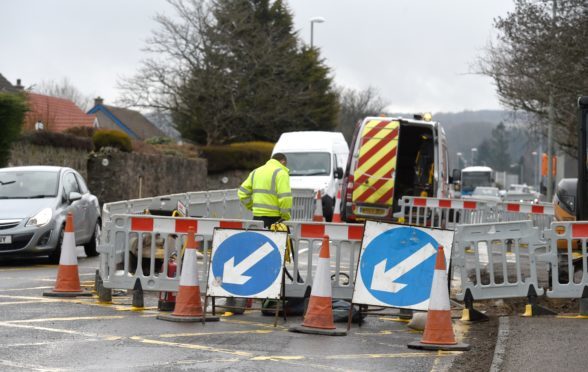 Motorists have been hit by major delays on the first day of four weeks of roadworks on a busy Inverness road.
Gas distribution company SGN started work yesterday to upgrade the local gas supply network on Old Perth Road, close to the city's Raigmore Hospital.
Soon after the works began, several drivers were posting warnings on social media about lengthy delays in the area, particularly during peak traffic times.
One woman, Lorna McDonald, said that she was stuck in traffic while being taken to the hospital in a taxi, which pushed up her normal fare of £9.80 to £20.80.
She said: "Thankfully I didn't get charged the full amount. The roadworks changed this from a 10-minute journey to a 45 minute one. People are going to be late if using that route."
Another driver, Natasha Dick, wrote: "Roadworks on Old Perth Road have resulted in a massive queue going up it. I'm stuck in it and running very late for college. This is ridiculous. I would advise people travelling up to Inshes to take an alternative route to avoid this delay."
SGN engineering manager Alex Torrence said previously that the work was "essential" and involved replacing old metal gas mains with new plastic pipe to ensure they continue to provide a safe and reliable gas supply to the local area.
The new pipe has a minimum lifespan of 80 years.
Mr Torrence also stressed that SGN had worked closely with the council in planning the work and would do everything possible to minimise disruption.
The work on Old Perth Road is taking place near to the junction with Culcabock Avenue and near the junction into Raigmore Hospital.
SGN engineers have replaced the existing traffic lights at the hospital with temporary traffic lights. These will be manually controlled during peak times to ensure continual traffic flow.
Inverness Millburn councillor Ian Brown, who was working as an electrician at the city's hospital yesterday, said he overheard many people at work saying the delays were bad.
He added: "The first week can sometimes be the worst but hopefully people will get used to it and make alternative arrangements.
"It is a commuter road. I suppose the school holidays might have been a better time to do it because there would be less traffic."