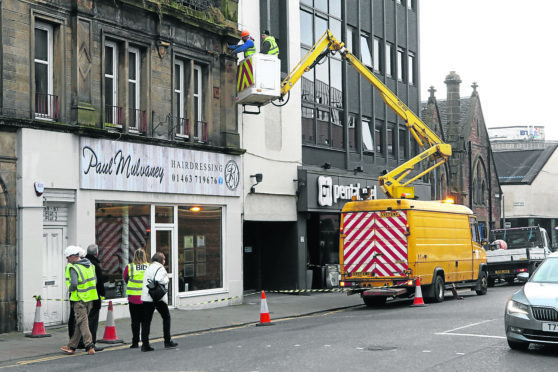 One of Inverness's busiest streets was forced to close yesterday after a banner advertising an Easter egg hunt was caught by the wind and dislodged masonry.
Academy Street was closed for a time after a piece of stonework was left in an unsafe position hanging over a ledge of a city centre building.
The large slab was left dangling off the edge of the building, next to the Pentahotel, sparking a hasty response from the emergency services.
The banner, belonging to Inverness Bid, collapsed onto the road and moved the masonry it was attached to.
Fire and police were dispatched to the scene at about 11.35am.
A fire service spokesman said: "The Scottish Fire and Rescue Service was alerted at 11.50am on Thursday, March 15 to reports of an unsafe structure on Academy Street, Inverness.
"Operations Control immediately mobilised one fire engine and an aerial appliance to the scene.
"There were no casualties.
"Crews left the scene at 12.35 after ensuring the area was made safe."
A police spokesman added: "Officers were in attendance and assisting the Scottish Fire and Rescue Service as they dealt with the banner and the masonry."
Inverness Bid were alerted to the incident after being contacted by an eye witness.
John MacDonald, Community Safety Manager for Inverness Bid, said: "A Bid ambassador said to staff at the Penahotel not to exit because of the recovery that was going on.
"It was reported to us by a passing motorist that a piece of masonry has come adrift; the part where they attach the banners to advertise local events. Currently the banner that was up was for Inverness Bid East Egg Hunt. We were told the banner was loose and we went down and warned members of the public and contacted emergency services."
Highland Council closed the city centre road between Queensgate and Chapel Street just before noon to allow appliances access to the scene and motorists were diverted.
One eye-witness said the incident caused chaos. She said: "The buses couldn't get through this way, they had to go right round by the bus station. It messed up a lot of people that were standing here. People trying to come up the way had to turn round and go the other way."
Councillor Bet McAllister for Inverness Central said she hopes this incident will be a warning to business and home owners in the city. She said: "Thank goodness no one has been injured. I am hoping this may send a message out to people and the owners of businesses in the city centre or private flats that they have to be sure they are looking after their properties. There has been so many accidents in other cities and people have been killed because of fallen masonry. I think we have to now have a discussion to see if there is any more we can do to deal with this and prevent this from happening again."
Elsewhere, gale force winds caused disruption across the north with plummeting temperatures and snow flurries forecast for the weekend.
Ferry services in the Western Isles, Orkney and Shetland all suffered cancellations and delays as high winds swept the Highlands and Islands and Moray.
Ski resorts also suffered. Cairngorm Mountain experienced strong winds reaching 70-90mph, with some gusts on the summit going over 100mph.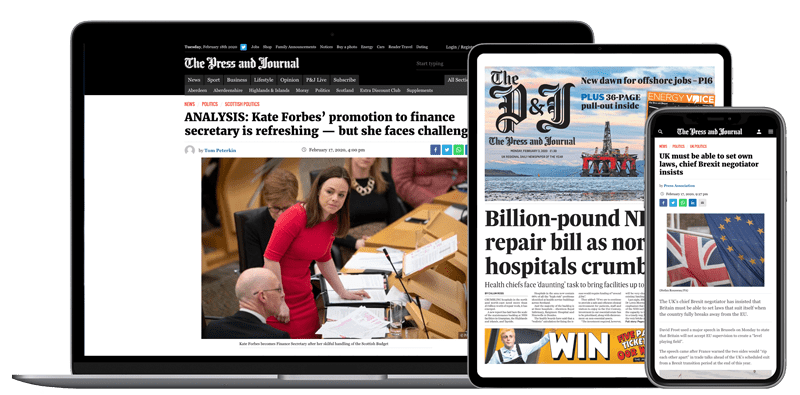 Help support quality local journalism … become a digital subscriber to The Press and Journal
For as little as £5.99 a month you can access all of our content, including Premium articles.
Subscribe