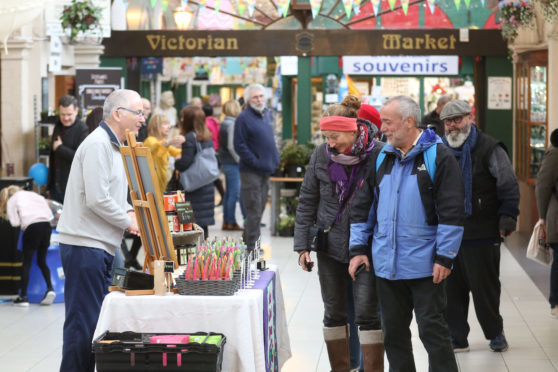 The Victorian Market in Inverness has opened its doors for the first weekend of the summer season.
The move comes after a successful pilot scheme last year led to the roll out of weekend opening due to demand.
The market is home to a number of permanent businesses but on Saturday and Sunday stalls were in place outside the shops to offer visitors a greater variety.
A priority in recent times for the market has been to focus as much as possible on local produce and products as it bids to become one of the Highland's leading attractions.
That accent on Highland ceramics, food, arts and crafts informed a lot of what was on offer for shoppers who ventured out.
The work of Conon Bridge-based ceramicist and glass artist Hannah Morrison was available.
The art works on that were on sale ranged from the traditional to scenes made from items like stone and wood.
Homemade traditional Scottish produce was available like tablet from Aunt Marie's Kitchen in Forres and as well as jewellery.
Business, tourism and the Highland Council have been making the case to develop the market into one of the top attractions in the region.
Towards the end of last year there were calls from Inverness Chamber of Commerce chief executive Stewart Nicol to define the opening hours.
He said: "One of the things that needs to be fixed is the opening hours and opening into the evenings, particularly in summer."
The ultimate aim is to convert the B-listed shopping centre into a venue like the English Market in Cork, Ireland, which champions local produce.