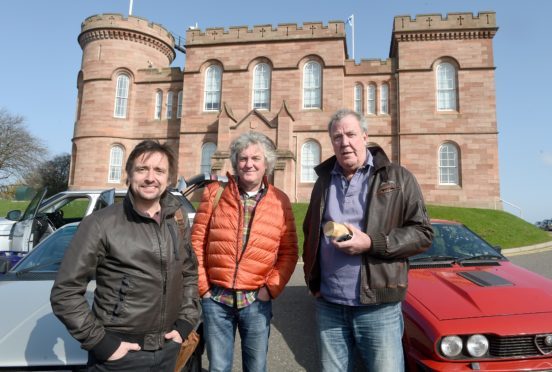 Messrs Clarkson, May and Hammond yesterday finished their Grand Tour of the Highlands – and said the experience was "spectacular".
The Grand Tour crew rolled into Inverness yesterday bringing to a close their three-day Highland adventure.
Hosts Jeremy Clarkson, Richard Hammond and James May rolled down Castle Street in a Fiat X1/9, a Lancia Gamma and an Alfa Romeo GTV6 respectively, arriving at Inverness Castle to wrap up filming.
A of about 100 tourists, locals and court workers mustered as the trio pulled up next to the Flora MacDonald statue outside the famous landmark.
They had been spotted earlier this week embarking on different challenges along parts of the North Coast 500 route, now recognised the world over.
Jeremy Clarkson said: "It has been absolutely spectacular. We never saw another car and got everything we wanted. It rained on the first day but the weather has been glorious. The run back from Ullapool to Inverness was as spectacular as anywhere we have seen in the world and we've been to Burma, South America – and it's right on our back door."
Richard Hammond added: "I can't give anything away. The views were beautiful and it has been spectacular. I have enjoyed everything and the weather has been good."
Fans of the show greeted the stars at the castle, with many getting pictures with their heroes.
Two years previously when The Grand Tour visited Fort Augustus on Loch Ness, 11-year-old fan Kayden Platt from Inverness, an enthusiastic petrolhead, sought to meet his idol Richard Hammond. Armed only with a Top Gear book – the show the trio used to present – Kayden acquired the stars autograph but this time he wanted to do it properly.
It was third time lucky for Kayden as he had twice missed the crew at Lairg and Ullapool but much to his delight Richard Hammond recognised the youngster when they finally met up at Loch Broom garage on Wednesday.
Kayden said: "He was very nice and was happy to sign the correct book this time. He didn't have much time to talk but said that after the Highlands, he would be going round the world again.
"I was so excited – it was the best day of the year."