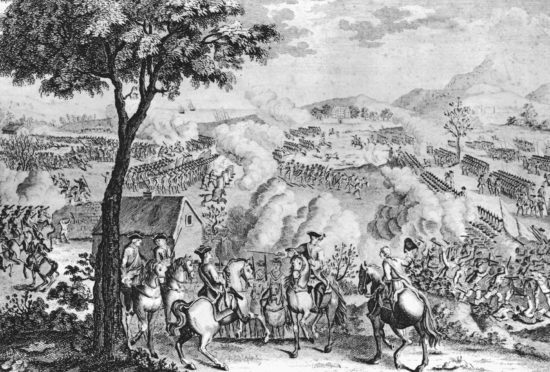 Ground penetrating radar may have discovered a mass grave of Highlanders massacred after the battle of Culloden.
History records that 16 of Bonnie Prince Charlie's officers, found hiding in the dungeon at Culloden House, were taken outside by Redcoats and shot and buried by the "Bargas Tree" in the grounds.
The tree is long gone as is a commemorative 5ft high stone with the inscription "Here lie soldiers killed by the English after the Battle of Culloden."
Only a small grassy knoll remains where the tree once stood. Now a geophysical survey has shown three pits under the mound.
Robert Cairns, chairman of the Lochaber Archaeological Society who commissioned the research, said: "We are very excited about the results. The mound has three distinctive pits in it so obviously it is quite significant.
"It is not something that you would normally find in the mound. We are planning to put in a small trench later in the year to see if there are any human remains in in the largest pit. We are confident we will find human remains. Then it will become a war grave".
A metal detector survey of the surrounding lawns of Culloden House Hotel uncovered a number of important finds including mid 18th century half pennies, pistol and musket balls, an iron buckle or clasp, military shirt buttons, a set of 18th or 19th century ploughshares, a 3in ornamental brass base and part of a sword blade.
On April 16, 1746 Bonnie Prince Charlie's rebellion to restore the Stuarts to the British Throne came to a bloody end as the government army, led by Charlie's distant cousin William, the Duke of Cumberland, defeated the Jacobites mostly made up of Highlanders on bleak Culloden Moor.