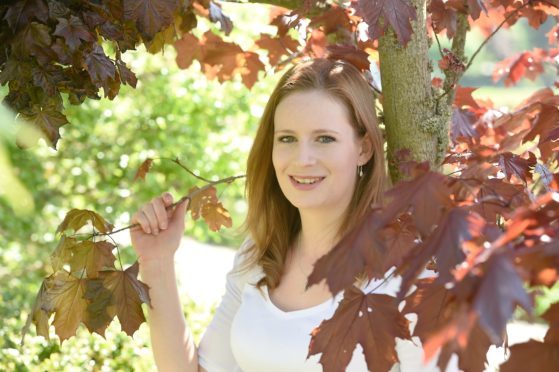 Inverness is to become Scotland's centre of excellence in researching Lyme Disease – a tick-borne condition which can lead to a variety of serious illnesses.
The news was last night welcomed by Highland sufferer and campaigner Morven-May MacCallum, as well as shadow health minister and north MSP David Stewart.
The city's Raigmore Hospital is to be designated as the Lyme Disease Reference Laboratory for Scotland – bringing with it over £350,000 of extra investment for staffing and equipment.
This will allow further dedicated research and new tests to be carried out by its microbiology team into the disease, which is causing increasing concern across Europe and is particularly prolific in the Highlands and Islands.
Inverness woman gets stung by bees 30 times a week in bid to cure her Lyme disease
There is estimated to around 3,000 new cases reported in the UK each year.
Highlands and Islands regional MSP and shadow health minister David Stewart said: "This is excellent news for NHS Highland and in particular the Raigmore microbiology team who have led on this issue for 15 years, while working with other partners.
"To be recognised as the Lyme Disease Reference Laboratory for Scotland is a huge accolade and obviously evidences the hard work, endeavour and dedication of all those involved in this work within NHS Highland.
"The work will help us then gain a better understanding of this infection which is of increasing concern."
Morven-May MacCallum, 24, of Tore on the Black Isle, said: "It is fantastic. I am really pleased to see there is more funding being put into research into a disease few people know about. It is really desperately needed.
"Hopefully this is a stepping stone to more being done to raise much-needed awareness and funding into Lyme Disease.
"This is highly significant because at the moment very little is being done to highlight the serious effects of the condition on people. It is such a huge issue."
A report to next week's NHS Highland's board states NHS Scotland had agreed that Raigmore Hospital should be designated as the Lyme Disease Reference Laboratory for Scotland.
It added: "The designation brings a recurring investment of £282,000 for staff and £80,000 for capital purchases.
"The investment will allow new tests for Lyme Disease to be developed. This will help to gain a better understanding of this infection which is of increasing concern across the whole of Northern Europe and Northern America."
"The Raigmore microbiology team has been leading on laboratory testing for Lyme in Scotland for 15 years. The status further demonstrates that NHS Highland continues to be at the forefront of national initiatives on Lyme Disease.
"The work in the laboratories is progressing alongside wider work across NHS Highland to raise awareness about Lyme disease amongst professionals and the public."
Morven-May MacCallum, who battled for three years to get a Lyme disease diagnosis, has met MSPs to raise awareness of the condition.
The 24-year-old from Tore said Lyme had left her practically housebound for eight years and was still "very much dominating her entire life".
She was at the Scottish Parliament as part of Lyme Disease Awareness Month, which sees a number of events taking place across the country this month.
She said: "It was fantastic and I got phenomenal support from around 70 MSPs, including north MSPs Maree Todd and Kate Forbes."
Miss MacCallum first noticed her symptoms aged 15, but was misdiagnosed with ME and chronic fatigue syndrome. She was forced to drop out of school aged 16 due to severe exhaustion, memory loss and concentration lapses caused by the illness.
Acitivities she had always enjoyed – climbing Munros, swimming, jogging and cycling – tailed off. Even the simplest tasks became too difficult.
At the age of 19, she was correctly diagnosed by a private doctor. Her mother, who is a nurse, administered the antibiotics at home by injecting them into her daughter's hip.
She has written a fictional novel, Finding Joy, about the suffering of a young woman and her family trying to find out what is wrong with her, mirroring some of Miss MacCallum's own experiences.
She has also been putting her energy into giving talks about the condition across the north.
Lyme Disease UK conservatively estimates that there are about 3,000 new cases of Lyme each year.