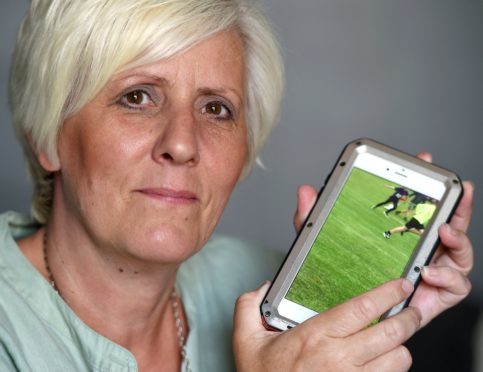 Children were left in tears after being wrongly sent home without medals after a school sports competition in Inverness – despite parents showing video evidence to officials.
Drakies Primary School under-12s relay team were told they finished sixth  – instead of either second or third – after the race at the south Highland schools inter-sports event at Bught Park on Saturday.
Mistakes were made by officials recording team numbers on the results sheets, with the under-12s girls relay race also affected and a girls shot putt event in which the pupil was incorrectly told they had finished second.
A spokesman for the South Highland Schools Athletic Association (SHSAA), a voluntary group, said the mistakes have since been rectified and medals will be correctly issued to the affected pupils.
But after the boys relay race on Saturday, angry parents and grandparents stepped in when announcers read out the wrong results and medals were given to a team which finished outside the top three.
Sylvia Mackenzie, whose 10-year-old grandson Ashton Addison ran the second leg of the relay for Drakies, said: "Some of them were crying on Saturday. They were so disappointed. They (the children) were coming up to us to say, 'how did we get robbed of that?' The frustration for us was that we had to see that and could not help them.
"The fact is, they put a lot of hard work and effort into that race and they go away without their medals."
Mrs Mackenzie's daughter, Lisa Addison, and the father of another boy in the relay team also showed referees their videos of the race afterwards – but officials refused to change their minds.
Ms Addison said the attitude of those handling the event was "appalling" and that parents were being told discussing it further would "cause distress to the children."
Mrs Mackenzie said: "It was diabolical. Officials saying they are not going to take video evidence is absolutely nonsense."
The SHSAA spokesman said that, in line with all national athletics events, the association is "prohibited" from using video evidence at a primary school event and can not change results based on it.
The SHSAA spokesman added: "We apologise for any upset this caused on the day and have in fact had many school contact the committee to share their thanks for the event which is a big part of the South Highland Schools sporting calendar."
Parent council representative at Drakies, Lorraine Thain, thanked organisers of the event and praised them for resolving the mistakes within 24 hours.
Karen Ross, head teacher at Balloch Primary School, said the school supports the hard work which goes into organising these events and that staff going "above and beyond" to put children first should be applauded.
The event on Saturday involved 41 schools and up to 840 children taking part.