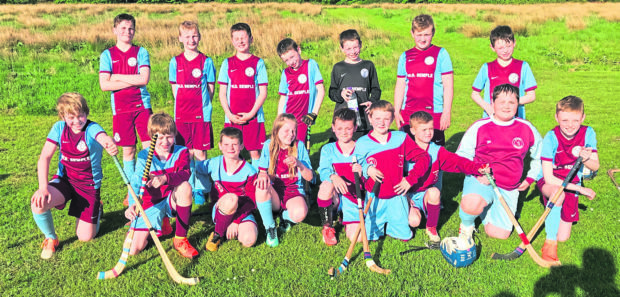 An Argyll children's shinty coach has warned that his club could be forced to fold after it was barred from school competitions under a rule introduced by the Camanachd Association.
Teams where the school roll exceeds 150 pupils will not now be allowed to play in national primary competitions, leaving Argyll's Kilmory and Dunadd Shinty Club out in the cold.
An Association spokesman said that the rule had been relaxed for two seasons to encourage kids to join in – but is now being reintroduced.
But coach Steven Gilmour fears the move will "drive eager kids out of the game", which he says is already in a fragile state in Argyll.
Kilmory and Dunadd is made up of children from Lochgilphead, Ardrishaig and Glassary primaries, all located within a six-mile radius and with a combined school roll of around 350, barring them from competing.
Mr Gilmour said: "We feel that this has been done without any consultation and is against the whole ethos of the sport.
"While we have more than the 150 threshold, we are at a disadvantage as not as many kids in Argyll are into shinty to the same extent as other areas where the sport is more popular.
"We have become a fairly successful primary shinty team since setting up seven years ago.
"There are three teams in Argyll and Bute being affected by the rule change, meaning around 120 kids in all will be barred from playing national competitions.
"All three teams recently made the last four in a recent competition and it just seems a coincidence that this rule is now being imposed so soon after that. The association has moved the goal posts."
He added: "We started from scratch and there is a hefty amount of work to keep this going.
"Shinty within our part of Argyll is in a very fragile state with Kilmory and Dunadd suffering from a lack of pathways for players to progress from primary to under 14/17 level."
He said: "We will now be holding a meeting with parents to discuss whether it is worth continuing as a club if we can not compete nationally, or to fold."
Graham Cormack, national development manager at the Camanachd Association (CA), said: "It was agreed by the CA Youth Committee that the 150 combined roll rule was relaxed for 2015-16 and 2016-17 to encourage clubs to develop more school-based teams.
"Following representation from a number of schools it was agreed by the CA youth committee in August 2017 that the 150 combined roll should be reintroduced.
"Schools with a catchment of over 150 were considered to have a greater advantage.
"Teams unable to meet the criteria for entry to the Schools competitions have the opportunity to play in local club events. The Camanachd Association are guided by feedback from participants and the criteria for these opportunities is reviewed annually."