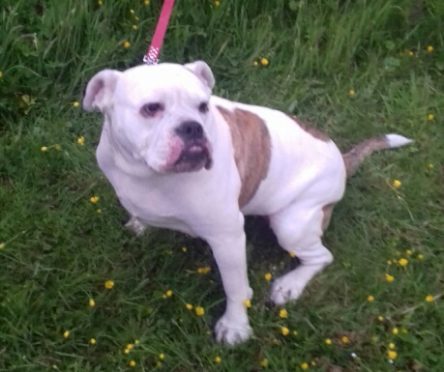 The Scottish SPCA is appealing for information after they were called out to attend to a dog tied up behind the local Tesco store in Inverness.
Scotland's animal welfare charity was alerted to the discovery after members of the public grew concerned about continuous barking on Monday 11 June.
Scottish SPCA Chief Inspector Iain Allan said, "We received a call from a member of the public who had grown concerned about prolonged barking behind the Tesco store.
"The British bulldog cross was found tied to fencing by a red lead and was clearly distressed.
"She's suffering from sore paws and an infection in both eyes. She's currently being looked after at our centre in Inverness where she is receiving the necessary treatment and is described as being sweet and gentle by our staff there.
"We're keen to find out as much as we can and urge the public to get in touch if they have any information that may help."
Abandoning an animal is an offence under the Animal Health and Welfare (Scotland) Act 2006. Anyone found guilty of doing so can expect to be banned from keeping animals for a fixed period or life.
Anyone with information is being urged to contact the Scottish SPCA Animal Helpline on 03000 999 999.