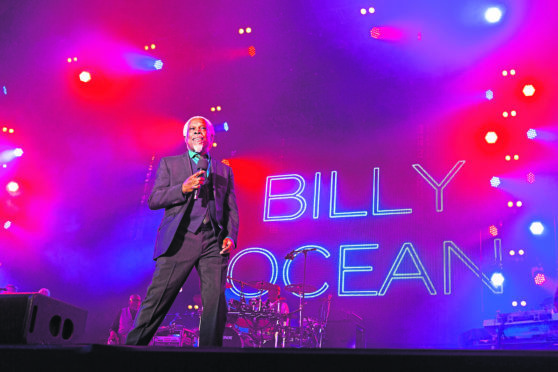 When the going gets tough, the tough sometimes have to cancel a show because they are unable to sing.
Billy Ocean's much anticipated gig at Inverness Leisure Centre on Sunday had to be called off at the last minute when the singer became ill shortly before he was due to take the stage.
Yesterday, he released a video message to fans apologising for the cancellation saying he felt "disappointed in myself more than anything".
Mr Ocean said: "Hi Inverness, I am sorry I had to cancel tonight but as you can hear I lost my voice and I know within myself that I wouldn't be able to put on a good show for you.
"I feel disappointed in myself more than anything but we are going to re-schedule so I look forward to seeing you all in the near future. I miss you, take care till we meet again, bye."
Some took to social media to express their frustration at the short notice of the cancellation, particularly as many made travel plans.
Eileen Povey wrote: "Bit late to let us know – I've paid transport, hotels, taxis, dog kennel fees and arrived at your venue to be turned away."
Another woman, Ami Tomlinson, complained: "Thanks for putting the message out over an hour after the gates opened."
Others were more understanding and made the point that there is not much can be done if a singer's loses their voice – the majority of posts wished him to "get well soon" and a "speedy recovery".
A spokeswoman for the promoters Live in the City said: "We're extremely sorry that Billy Ocean's concert at Inverness Leisure Centre had to be cancelled at short notice last night.
"Unfortunately, Billy Ocean took ill shortly before the show was due to start. As soon as Live in the City was informed by his management team that he was unable to perform, we reached out to concert-goers via our media partners and social media to inform them of the cancellation.
"Since Sunday evening we have been working with Billy Ocean's management team and the venue to reschedule the show. We will inform all ticket holders in the next 48 hours of a revised date.
She added: "We apologise again to those who were left disappointed as a result of last night's cancellation and want to reassure them that we are doing everything we can to reschedule the show."