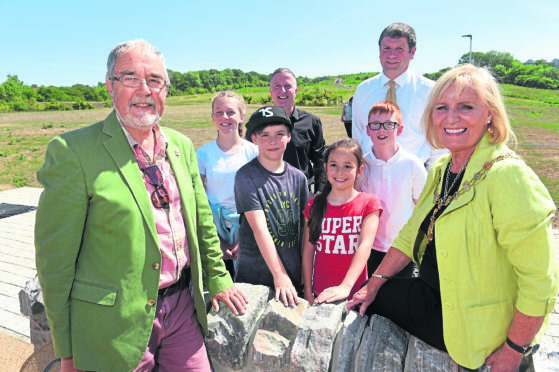 The second phase of a green-belt park in the Highlands Capital was officially opened yesterday – 11 years after planning permission for the development was granted.
Work on the second instalment of the Inshes District Park began in February, consisting of the construction of entrance plaza – a gathering place at the Stevenson Road Entrance – a 20 space car park and a series of paths through the site to the nearby footbridge.
The £580,000 contract was awarded to Edinburgh's P1 solutions LTD in December to transform the 6.3 hectare site, south of the city.
The Inshes Community Association – founded in 2011 – is responsible for the creation of the new city park, with work now gearing towards the creation of a new scooter park.
During the official opening yesterday, Thomas Prag, Chair of the Inshes Community Association (ICA) said: "We are calling it a scooter park because it's different from all the other wheel parks. There are two skate parks already in Inverness and the problem with skate parks and scooters is that the scooters damage the skate parks because they have got metal things underneath so this will be a park for scooters, but skate boarders can use it as well.
"We have got planning permission already; we know where it is going and roughly what it will cost us so now we are looking for the money. We are confident – it's going to cost in the region of £350,000 or thereabouts and we put our first bid in just this week for about £100,000."
Funding for the project has come entirely from developer contributions, as well as a £270,000 donation from Sustran's and £30,000 from the Common Good Fund.
Inverness Provost Helen Carmichael said she hopes the park will be a lasting legacy for generations to come.
She added: "It's lovely to have legacy projects like this that you know as you walk away other generations will see it and enjoy it. We are all used to going to parks but we don't think about how long they have been there really, we just take it that the park has always been there, so to be here at the start of this and to know these children and their children will be able to enjoy the park is just wonderful."